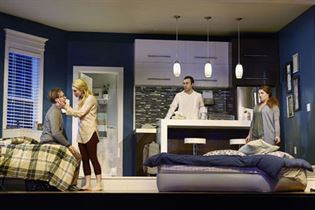 There is so much brewing in the studio apartment on Manhattan's Upper West Side. It has to do with entitlement and frustration and religion. The family members of Joshua Harmon's Bad Jews have lost someone they all consider great, and this loss has caused them to hold on fiercely to their own truths.
In the play we find ourselves in Jonah's (David Sklar) apartment, with his cousin Daphna (Bobbi Goddard) the evening of their grandfather's funeral. Daphna makes comments about Jonah's apartment, with its incredible view and modern feel. It's a studio apartment but is very stylish. Daphna reveals herself to be a little pushy, insisting that Jonah come visit her and that they pick a weekend right then.
She is adept at making the fairly quiet Jonah feel guilty and do what she wants. The conversation veers to Jonah's brother Liam (Jeremy Ferdman) who is supposed to be arriving that night and how Daphna feels that he looks down on her. Just before Liam shows up, Daphna says that she would like their grandfather's chai (a gold pendant on a chain) as she feels she is the most connected to Judaism and should get it. Jonah just says he doesn't want it. Liam then shows up with his girlfriend Melody (Katharine Zaborsky).
The tension of Bad Jews is built on the concept of disdain. Daphna regards Liam with disdain because she feels he is a bad Jew. He doesn't honour his background, what his people have gone through. She feels contempt towards him because he didn't show up to their grandfather's funeral and because he dates outside of the faith. She is in her mind a good Jew.
Liam has the same level of contempt towards Daphna thinking that she is above everyone else and that she holds on to Judaism as if she suffered too. He basically thinks that her boyfriend is made up because she can't find anyone to date her. It's full blown war within four walls and it all comes to blows when the discussion turns to who among the grandchildren will get the chai.
Cory Sincennes set and lighting design shows off the stylish apartment with paintings on the walls and a fancy tile back splash in the kitchen. All four actors carry their roles carefully and all stand out in their own right. Goddard is truly the manipulative and righteous Daphna, letting her entitlement and insecurities shine. Sklar is outstanding as Jonah, being constantly stuck between his brother and his cousin, wanting to not be part of the discussion but being involved against his will. Zaborsky is the awkward outsider of this trio and also has a great singing voice. Ferdman carries the emotional complexity of Liam really well. Valerie Planche's direction has it all come together in ferocious theatre.
Bad Jews is a play where the characters have to figure out how to carry their grandfather's legacy and their struggle with their own guilt and insecurities around that. Sometimes the answers don't come so easily and it causes the characters on stage to lash out. If you're into ferocious theatre, then Bad Jews is for you. It makes for an entertaining night at the theatre.
Theatre Calgary's production of Bad Jews runs until April 10. More information is available online.
---