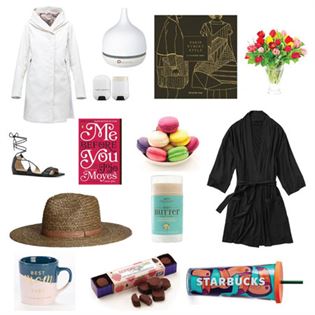 Mother's Day is this weekend - Sunday to be specific but I think it is totally warranted to celebrate your Mom all weekend long. Between the numerous brunches, lunches and dinners happening around downtown just for Mom, you'll need to pick up some goodies to spoil her on her special day.
Luckily, shopping in downtown Calgary is flush with great mother's day gift ideas. Literally everywhere I looked I saw great gifts for my Mom and maybe even myself (hey, I am a mom now too so it is okay!). I pulled together a few of my favourite items I found while hunting around downtown.
This super stylish Asymmetrical Swing Coat from m0851 at Bankers Hall is a great gift for spring. Instead of a traditional rain coat, this gorgeous jacket will totally do the trick throughout Calgary's unpredictable weather patterns.
This book has been a bestseller since it came out. A great gift for the Mom who loves a good book. Me Before You novel, Indigo
Does your Mom roll her eyes at the colouring book trend? She might be interested in this one. This Paris Street Style Colouring book from Indigo is absolutely gorgeous inside and will have Mom daydreaming of her next outfit of the day.
It is always so nice to bring beautiful scents into your home. Try out the Aerify Aroma Diffuser with some essential oil blends from Escents - perfect for relieving stress and anxiety.
Get your Mama ready for the warm summer months with a beautiful natural glow thanks to the Marc Jacobs Glow Stick from Sephora. A must-have for everyone's makeup bag this spring.
Super cute Brena Lace-up Sandals from Aldo will add a spring to her step as you take her out for a deluxe brunch complete with mimosas!
I feel like Macarons are totally a go-to for most people these days. They have almost replaced the classic bouquet of flowers. The macarons from Monplaisir Delicacies are absolutely delicious!
Another classic "mom" gift, this Modal Robe from GAP is ultra comfy.
If your mom is planning a vacation soon or spends a lot of time outdoors pick up a stylish Straw Hat for her from H&M.
Ah yes, you really can't go wrong with Fresh Flowers. Pop by Twigs for a beautiful selection of stunning blooms and plants.
Well, this Vanilla Coconut Body Butter from Rocky Mountain Soap Company sounds absolutely heavenly. Add it to a gift basket full of goodies for pampering mom.
A no brainer for mom's who love their coffee or tea - this Best Mom Ever Mug from Papyrus is super cute.
These Raspberry Balsamic Truffles from Purdy's sound delightful and would go great with the Best Mom Ever mug!
And lastly, help your mom reduce her carbon footprint ever so slightly with this Toucan Cold Cup from Starbucks.
---