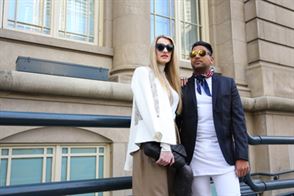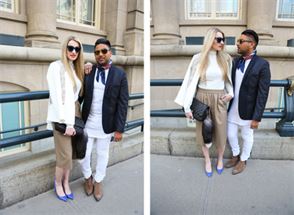 When I say they are the most stylish couple in Calgary, I truly mean it. I had the pleasure of first meeting Monika a few years ago, while shopping at one of my favourite stores downtown. I met her partner shortly thereafter, and it wasn't long before I was able to get them in front of my camera.
Their personal style evolutions have been exciting to watch, especially since the couple decided to start showcasing their personal looks on kohlercharles, as well as on social media. Their daily posts are inspiring, and I couldn't wait to photograph them together this time, and showcase this stunning and stylish couple to those that are yet to follow their every style move. But seriously, get on it!
How would you describe your personal style? 
It's an ever changing and evolving story of our lives!
What are some of your influences when it comes to fashion? 
Jeremiah: the Street style of men's Fashion Weeks.
Monika: I'm inspired by everything around me, whether it is fellow influencers and bloggers or going to Fashion Shows. Sometimes it's even a thought I have and I need to sit down and alter a garment to fulfill that vision.
What are some of your favourite stores and shopping destinations in Downtown Calgary? 
Monika: I feel that for women it is much easier to find cool and fashionable pieces than it is for men. For trend pieces I love H&M and Topshop. The Bay has really widened their selection of amazing fashionable pieces. Holt Renfrew is definitely always a destination for that special something!
What are some of your favourite Downtown YYC spots? 
We love going for brunch so the recently opened Alforno has been our new hot spot! We love the set up and that you can go there for a meeting of just to relax! Deville is great for coffee dates.
What are some of your favourite trends right now? 
I love a neutral colour palette right now which we saw a lot at all the Fashion Weeks that just happened. I am happy that culottes are still in for the coming season as those have become my go to!
What fashion advice would you give to others? 
Monika: Know your body and wear what suits you, and not just what is on trend right now. Stay true to your own style and have fun with it!
Tell us more about the projects and work that you're involved with. 
Jeremiah: We just came back from Toronto Fashion Week where we saw the amazing talent Canada has to offer, and reviews of this will be on www.KOHLERCHARLES.com. We are also working with a number of local business which are featured on our website.
What are some of your future aspirations?  
We are currently working on a huge milestone for our brand as we plan to spend some time in Europe to truly engage in the European Fashion scene.
A true goal for us would be attending Paris Fashion Week.
How does your work influence your personal style? 
With all the different social media channels out there, so much inspiration around us it is most important to me to keep my personal style. That being said, I love experimenting. Looking back, my style has definitely changed and evolved since the start of our journey at www.KOHLERCHARLES.com which is so important to me.
---