Theatre Junction's amazing 2016-17 line-up is coming to you from Japan, Belgium, Germany, France, Canada and Australia.With new cultural territory on the horizon, we've got some exploring to do!
Theatre, dance, politics, music, photography, and multimedia art will intertwine during this next season, in conjunction with the 10th anniversary of Theatre Junction at The Grand and the 25th anniversary of Theatre Junction.
"I am drawn to work that provokes an emotion in me. When something is put into motion, it changes. This is the first thing that I look for – art that is a catalyst for change," said Mark Lawes, Theatre Junction's Artistic Director.
"What is important is not only the work of art itself, but what it provokes. What are the ripple effects, what are the new conversations, meetings and ideas that are born out of the encounter between the artist and the public? What is put into motion?"
This season's seven performances will bring diverse experiences and ideas from around the world to Calgary audiences, starting with Japan's Hiroaki Umeda and wrapping up with Australia's Circa.
Intensional Particle/split flow - Hiroaki Umeda (Japan) October 12 - 15, 2016 
Returning to Theatre Junction with two new solo performances, Japanese sensation Hiroaki Umeda redefines traditional and contemporary dance, weaving hip-hop, butoh and stunning visuals into an explosive sensory experience - his work is both minimal and radical, subtle and violent.
For those interested in: Street Dance, Contemporary Dance, Sonics, Multi-Media, Digital Art and Technology
The Monkey Trail - tg STAN (Belgium) November 2 - 5, 2016 
The Monkey Trial is based on the transcription of the astonishing "The Scopes Monkey Trial." In 1925, American John Scopes, a substitute high school biology teacher, was accused of violating Tennessee's Butler Act, which made it against the law to teach evolution in any state-funded school. A riveting clash between fundamentalism and modernism, religion and science, dogma and intellectual freedom – the players have changed, but the game remains the same.
For those interested in: Civil Liberties, American History, Law, Documentary, Science & Anthropology, Courtroom Drama, Religious Studies
Portraits in Motion  - Volker Gerling (Germany) January 18 - 21, 2017 
Presented by Theatre Junction and One Yellow Rabbit Performance Theatre as part of the 31st annual High Performance Rodeo
Passionate creator and fearless traveller, Volker Gerling, has walked over 3500 km throughout Germany, creating intimate and fascinating flipbook portraits of people he meets along the way. The images come to life as he projects them onto a large screen and shares the heart-warming and moving stories behind each encounter.
For those interested in: Portraiture, Random Encounters, Travel, Flipbooks, Germany, Photography
Transistor - Cabaret Contemporain (France) February 22 - 25, 2017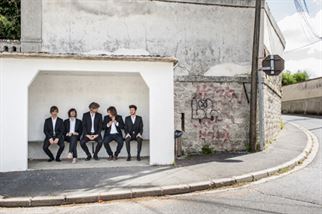 Melding the artistry of acoustic music with the dance-floor sensibility of electronica, Cabaret Contemporain - who are signed to a well-known Berlin electro/experimental label - perform a beat driven improvisational work that will have you dancing in the aisles.
For those interested in: Instrumentation, Improvisational Composition, Dance, Musical Gear, Analog Equipment
To the Pain that Lingers (À La Douleur Que J'Ai) - Compagnie Virginie Brunelle (Montreal) March 8-11, 2017 
Co-produced by Theatre Junction, Agora de la Danse, The National Arts Centre and The Banff Centre
Virginie Brunelle is an exciting and provocative young choreographer at the forefront of Montreal's dance scene. Poetic, raw and sensual, she explores a primal human link that can never truly be broken.
For those interested in: Contemporary Dance, Classical Dance, Somatics
The Watershed - Porte Parole & Crow's Theatre (Montreal & Toronto) March 29 - April 1, 2017 
Annabel Soutar, a Montreal theatre artist, leads her own family on a cross-country journey of Canada, investigating the forces that are shaping the future of our natural resources. In this production, she asks the hard question: Who decides what happens to our water and the future of this rich and vast land that we call home?
For those interested in: Water, Ecology, Politics, Public Resources, Family, Road Trips, Demoracy
When a Door Closes - Circa (Australia) May 9 - 13, 2017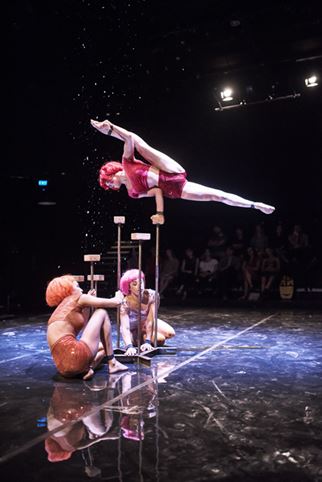 What happens when three great heroines of 20th century drama are thrown into a room together with nothing but scratched recordings of A Doll's House as their soundtrack? Not your average circus!
For those interested in: Circus, Theatre, Dance, 20th Century Literature, Acrobatics, Aerial Performance
Early Bird 7-Performance Passports now on sale for $199 (representing a 20% saving over our regular 7- Performance Passport and nearly a 40% saving over our regular ticket prices). 
Early Bird Passports are available for a limited time only.
For more information and tickets, please visit theatrejunction.com or 403.205.2922. 
---