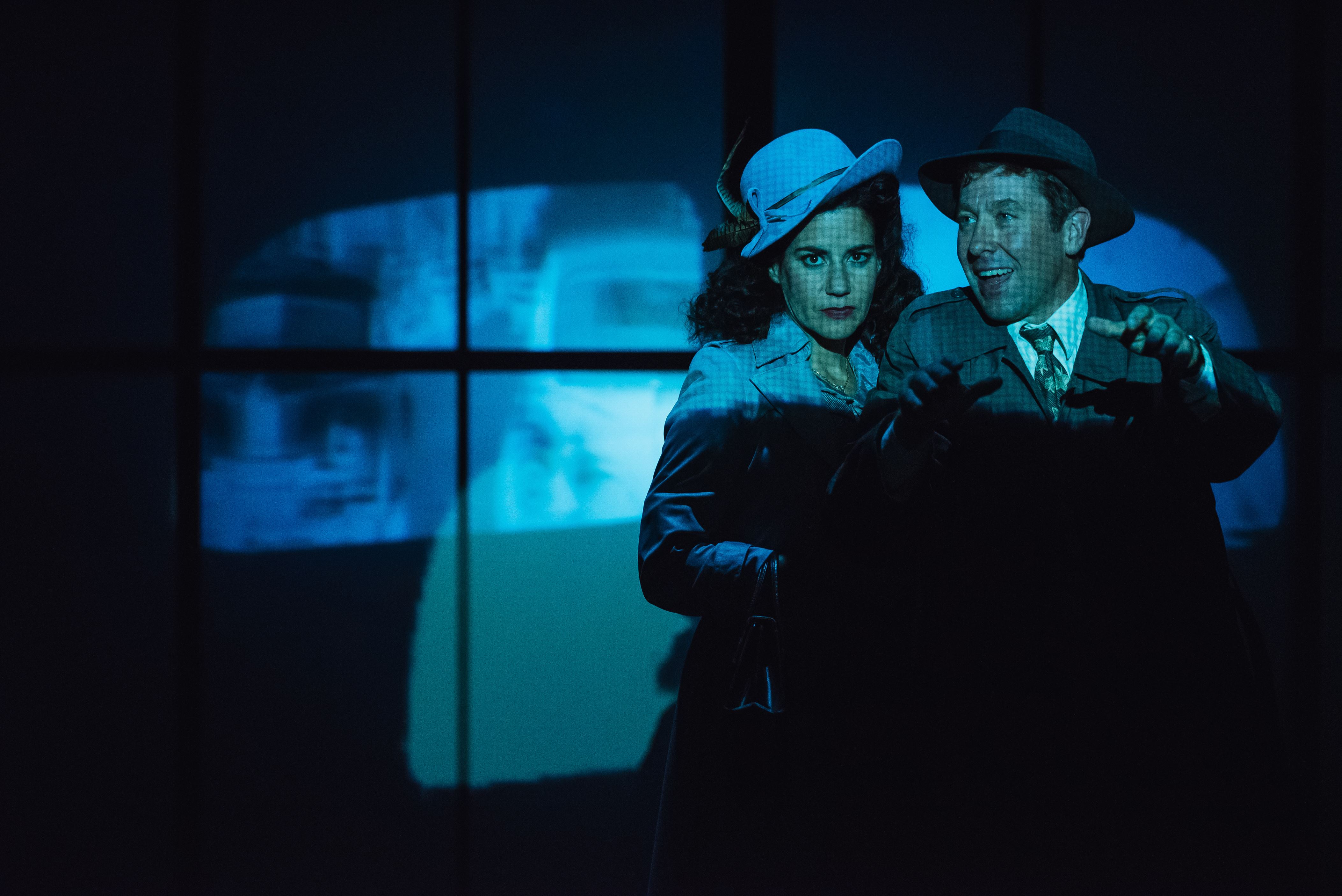 Back in 2014, Vertigo Theatre produced the world premiere of Raymond Chandler's Farewell, My Lovely by Aaron Bushkowsky. Vertigo Theatre was so pleased with that production that they commissioned Bushkowsky to write Chandler's The Big Sleep for the stage. The production brings back Graham Percy as Phillip Marlowe and Stephen Hair as Detective Nulty. Combined with some cutting edge projection design by Jamie Nesbitt (which I can't really judge, as Vertigo had projection problems on opening night), the production mixes Chandler's rambling, nonsensical plot with a talented cast and snappy dialogue.
It is safe to say that the play tells of The General (Stephen Hair) who hires Marlow as a private detective. Marlow predictably gets involved with the eldest sister of the family Vivian Regan (Mabelle Carvajal) even though she is married to Rusty (Curt McKinstry). The youngest sister Carmen (Jesse Lynn Anderson) is all sorts of trouble and throw in the casino owner Eddie Mars (Joel Cochrane) and his wife Mona Mars (Katherine Fadum) and you have a mystery that doesn't add up.
This production has the quick dialogue and the great witty banter that carries it along, but don't try and figure out who dunnit, because that's not really the point. Just sit back and watch a relatively sober Marlowe piece together who killed whom, because you sure won't be able to figure it out.
Percy strikes a good balance between sharp and gullible as Marlow. Fadum is absolutely great as Mona and it is quite the treat to see Percy and Cochrane on stage together. They had great chemistry sparring with each other. Both Anderson and Carvajal do well in their roles as seductive, dangerous women.
If you're a fan of Chandler's work, this play will give you the experience you are looking for. If you're not really familiar with his work, then just enjoy the atmosphere of the story due to Craig Hall's direction as well as the great, movie-esque projections on an innovative set design by Scott Reid.
Vertigo Theatre's The Big Sleep runs until October 16. More information is available online.
Photo: Mabelle Carvajal and Graham Percy. Credit: Tim Nguyen, CITRUS PHOTOGRAPHY
---