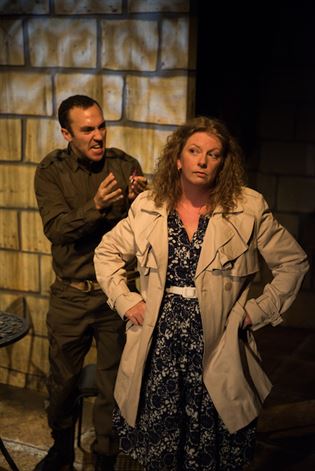 Aaron Bushkowsky is a popular playwright in Calgary right now as his play The Big Sleep is on at Vertigo Theatre and After Jerusalem is playing at Lunchbox Theatre. After Jerusalem is a quirky story that walks the line between sweetly romantic and deeply realistic.
The play tells of Carol (Kira Bradley), a middle-aged woman from Regina, who is in Jerusalem around Christmas time, waiting to feel something. She meets Vladimir (David Sklar) a soldier who is an aspiring scriptwriter. Their lives mingle and they are a very unlikely pair. They both tell lies about their situations, trying to be more glamorous or more tragic. Their interactions are intersected by romantic movie scenes where they play out the drama.
David Smith's scenic and lighting design along with Chad Blain's sound design is what creates the movie effect. It's flickering movie light, like it's on old movie film. Mark Bellamy's direction brings the best out of both Bradley and Sklar, having them be over the top and earnest at the same time.
Bushkowsky's script is full of unexpected things. He puts two unlikely characters together and doesn't pretend that life doesn't get in the way. Both characters are very similar in that they long for the drama and feelings in the movies to be a part of the narrative of their own lives, but they are also aware that life isn't quite like the movies.
What is refreshing about the play is how we can relate to the characters on stage. "Loneliness is within." We can relate to the feeling of life just passing us by, and how the exciting things happen to other people, so we might as well try to be other people.
Lunchbox Theatre's After Jerusalem runs until October 8th. More information is available online.
Photo Credit: Benjamin Laird 
---