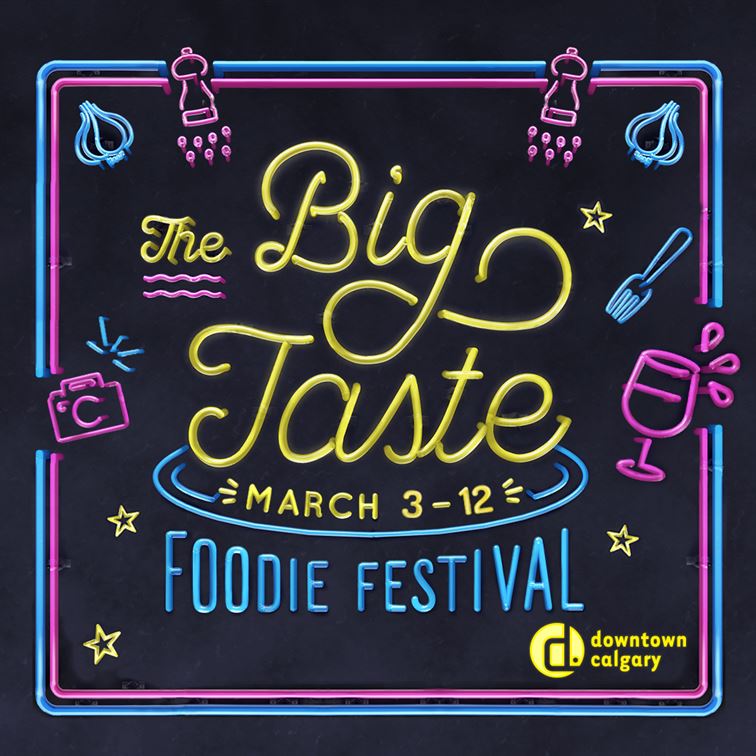 THE BIG TASTE 2017 - Until March 12, 2022
Join in as Calgary's best chefs feature three and five course fixed price menus of their best dishes. With over 100 restaurants to choose from, it's easy to get a Big Taste downtown.
Get ready to graze your way right across downtown as Calgary's brightest culinary talent presents amazing three and five-course menus for an easy fixed price. Open wide for The Big Taste 2017.

SCRUMPTIOUS LUNCHES
$15 or $25* / Person
THREE-COURSE
SUCCULENT DINNERS
$25 or $35* / Person
THREE-COURSE
GOURMET** MASTERPIECES
$65* / Person
FIVE-COURSE
*Taxes & gratuities not included.
**Gourmet includes 5-course meal with BC VQA wine pairings at an additional cost
12 different signature events will also take place this year. There are still tickets left to the events at River Cafe, The Nash, Anju, Earth/Water/Fire, Divino, Earls and SAIT Culinary Campus, so get your tickets while you can!
Check out the Big Taste website for more details.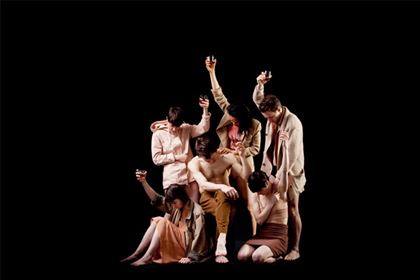 TO THE PAIN THAT LINGERS (THEATRE JUNCTION) - March 8 - 11, 2017
Virginie Brunelle is an exciting young choreographer at the forefront of the Montreal dance scene. In À La Douleur Que J'ai, she offers a poetic work that is sometimes romantic, sometimes crude, but always informed by her ongoing investigation of human relations. Here, she explores our connection to each other, a link that can never be truly broken, one that leaves behind traces, residue; a memory.
Moving through a world of conflicting emotions, her remarkable performers appear on stage, carried by the lingering echo of separation and absence. Brunelle's choreographic signature is distinct: highly physical performances, classical vocabulary deconstructed into jagged rhythms and raw gestural motifs.
Tickets and showtimes can be found on Theatre Junctions website.
JAKE SHIMABUKURO AT ARTS COMMONS - March 9, 2022
Consider the humble ukulele: a four-stringed instrument adopted by Portuguese immigrants in Hawaii's sugar cane fields. Jake Shimabukuro has taken this seemingly simple instrument to new heights, with his energetic reinterpretations of "Bohemian Rhapsody," "Ave Maria," and "While My Guitar Gently Weeps," making him a viral star. In 2012, award-winning documentary Jake Shimabukuro: Life on Four Strings was released tracking his life, career, and music. His mastery of the ukulele, has made him an acoustic music icon, declared a musical "hero" by Rolling Stone.
Shimabukuro now travels the world, collaborating with the likes of Yo-Yo Ma and Ziggy Marley, and spreading his craft, his passion, and his positivity at 140 shows per year. This special solo performance in the Jack Singer Concert Hall will be an absolute treat for your ears, and inspire you to believe anything is possible.
See the Arts Commons website for ticket information.
WORDFEST PRESENTS: HEATHER O'NEILL - March 10, 2022
Join Wordfest and the Calgary Public Library for an evening with Heather O'Neill, author of the critically acclaimed Lullabies for Little Criminals and two-time Giller Prize shortlisted nominee. O'Neill presents her latest novel, The Lonely Hearts Hotel, a dazzling circus of a story set in the seductive underside of Montreal and New York between the wars. The event includes an on-stage interview, reading and book signing.
More information and tickets can be found on the Wordfest website.
OUR MAN IN HAVANA (VERTIGO THEATRE) - Begins March 11, 2022
Jim Wormold is a British expatriate living in 1950's Cuba and is struggling to pay for his daughter's extravagant lifestyle. When the British Secret Service offers him a plum position as their "man in Havana", he literally can't afford to say no. There's just one problem: he doesn't know anything! Former Vertigo Artistic Director Mark Bellamy returns to direct this hilarious, fast-paced romp through the world of espionage.
Ticket and showtime info is available on Vertigo Theatre's website.
---
For more events in Downtown Calgary, visit the Downtown Calgary Events Calendar. Want these events emailed to your inbox each week? Click to sign up for the Downtown Calgary Events Newsletter.
---