I love when things come together in such a way that you just know it was meant to be. This is how I felt about my introduction to Emily Buck and her amazing family business, Bebop Shoes. I was actually styling a photo shoot for Avenue Magazine with the gorgeous and talented Calgary Jazz singer Ellen Doty - who also happens to be the new brand ambassador for Bebop! Of course I lost it over these custom gorgeous creations, and used them in a few of the outfits that I pulled for Doty for her Style Q&A, which just came out in the March issue (see the full feature here - http://cdn1.avenuecalgary.com/avenue-digital-issues/AC-03-17/index.html)
But back to Bebop…
Bebop is a recently launched company out of Calgary that offers custom men's and women's leather boots and shoes, handmade in Istanbul. The best part: You're able to choose from a number of shoe styles, then pick which coloured and patterned leathers you would like your custom shoes made from. The company is really proud to support hand-craftsmanship and to offer unique yet classic styles. They sell their stunning product at pop up shops, by appointment, and will be launching online in Spring 2017, so stay tuned for that!
Not only was the introduction amazing, but also the fact that I was able to partner up with the company just in time for my New York Fashion Week adventures, where I took a custom pair of shoes with me to NY! Check out my blog for more on those adventures (www.aldonab.com/blog)
What I love most about Buck's personal style is that she keeps it sleek and classic, yet adds amazing pieces - especially the Bebop shoes - to tell her personal style story. These green boots were actually her first pair of Bebops, and I'm sure she'll continue to rock them for years to come, just as I will with my own special pair.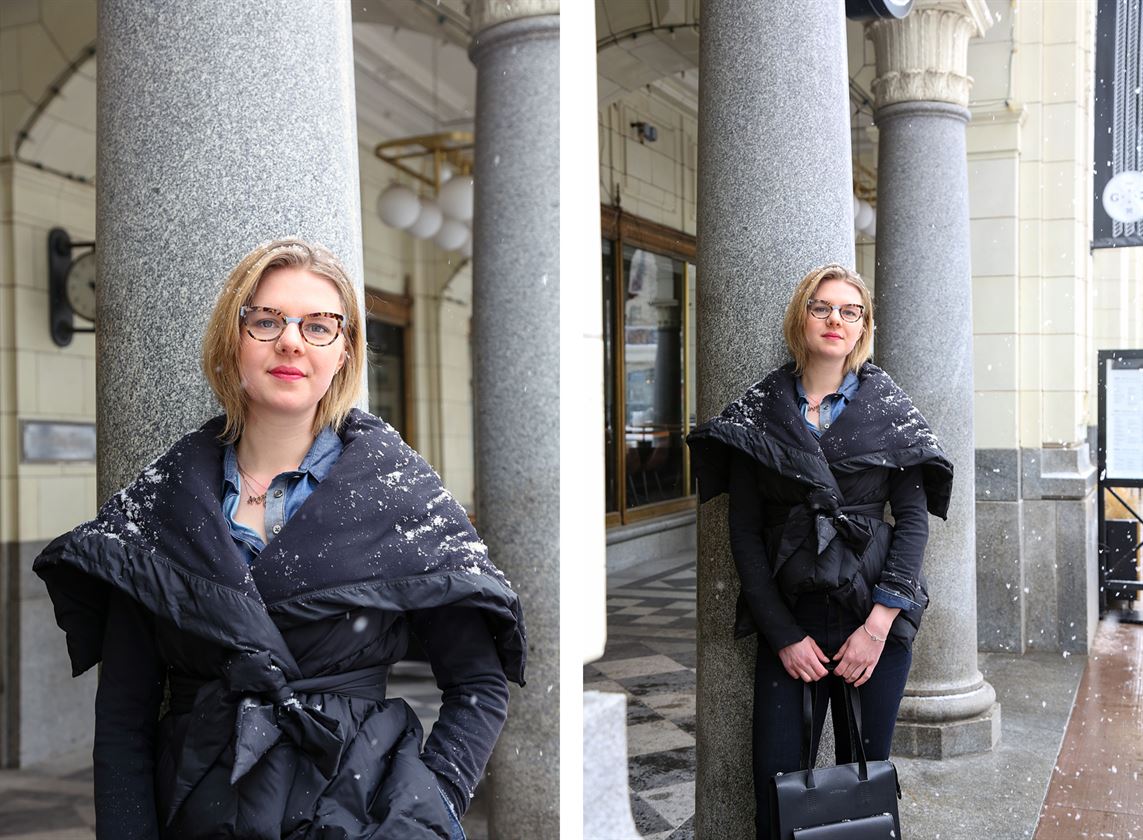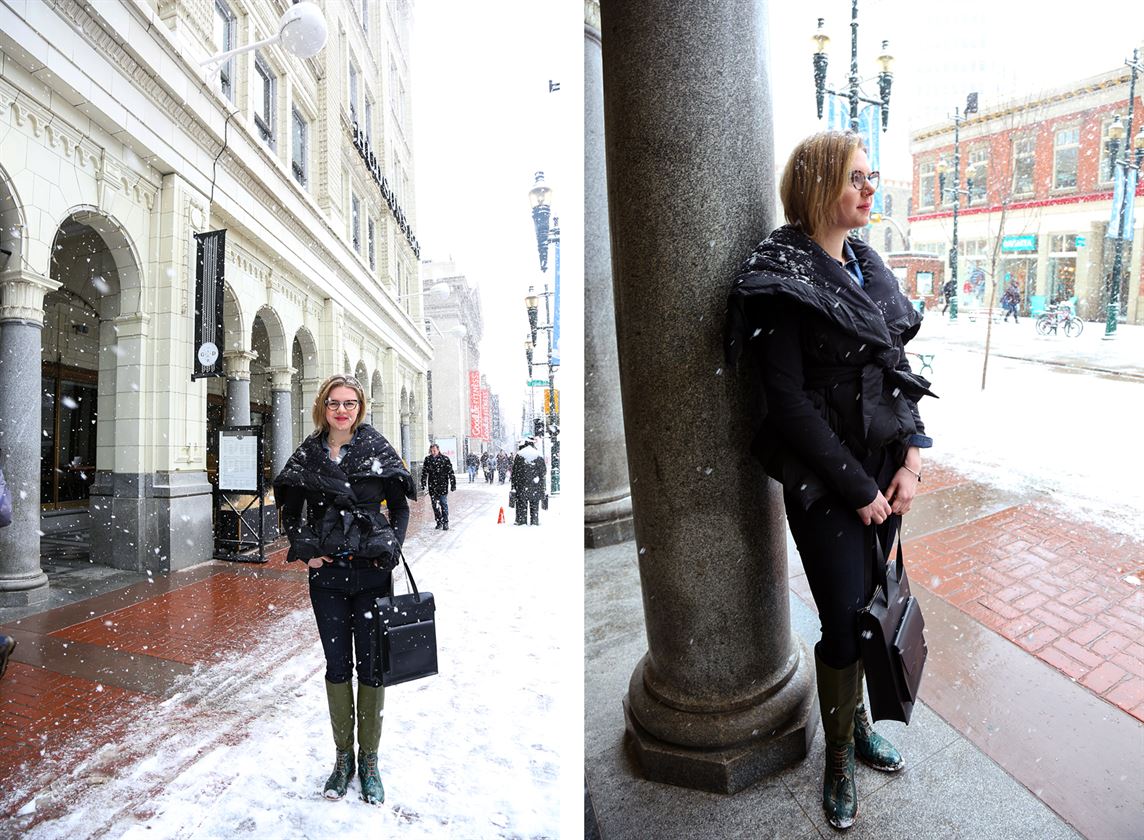 How would you describe your personal style? 
I love simple, well-fitting staples accented with a great jacket and an even greater pair of shoes.
What are some of your influences when it comes to fashion? 
I am influenced most when I'm travelling. When I travel I do a ton of walking and exploring, and often see people going about their normal lives. There is certainly inspiration to be found in the curated pages of fashion magazines, however I really enjoy seeing how people express themselves in subtle, unself-conscious ways in their day-to-day.
What are some of your favourite stores and shopping destinations in Downtown Calgary? 
The Fluevog store was my first love. When I first started working downtown I would often go to Fluevog during my lunch hour to visit my favorite pairs of shoes. After a month or two I had to stop visiting so often because every time I went I would fall in love with another pair of shoes. It was just altogether too much for my sensitive heart!
What are some of your favourite Downtown YYC spots? 
I love to grab a coffee at Rosso then walk to Arts Commons to tour through the art on exhibit in the Plus15. I'm a theatre enthusiast at heart, so just being in Arts Commons makes me a bit giddy because I imagine all the amazing things that are being created behind the scenes.
What are some of your favourite trends right now? 
High-waisted jeans! I'm almost 6 feet tall, so high-waisted jeans fit me like a normal rise fits most others. It's pretty great not to have to worry about accidentally flashing my undies when I bend over.
What fashion advice would you give to others? 
Don't buy clothes and shoes unless they fit you well. It's sad to walk away from something that you love but doesn't fit quite right, but you'll find fashion love again.
Tell us more about the projects and work that you're involved with. 
I am a Co-Founder of Bebop Shop, which just launched on February 4th, 2017. At Bebop Shop we make custom leather shoes for men and women. We currently operate as a pop-up shop and we take appointments for visits outside of our scheduled pop-up shop times. When our clients meet with us they choose the styles they like best, then we sit down together to go through leather swatches to design their custom shoes together right then and there.
At Bebop Shop we also sell a few products that have long been loved by our family, including leather bags, funky socks, and Le Jacquard Français linens.
What are some of your future aspirations?  
I have always wanted to be a shoe designer so I have to admit that I am over the moon about the launch of Bebop Shop. I'm going to continue to develop new designs, connect with shoe lovers, and share my excitement for Bebop Shop far and wide!
How does your work influence your personal style? 
I would say not only does my work influence my personal style, but my personal style also influences my work. I have always loved fashion that takes a classic silhouette and adds a twist or a pop of colour. I want to be able to wear statement pieces that can take me from a conservative meeting to a fancy dinner, then to an art show, all the while expressing a bit of my own individuality and creativity.
Anything you'd like to add or tell us about? 
Bebop Shop's next pop-up shop will be on March 18th, 2017. We love sharing our shoes with the world, so I always encourage anyone interested to join our email list to be the first to hear about upcoming Bebop events. Our website is shopatbebop.com.
---