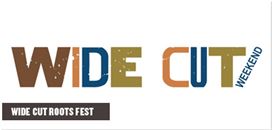 Wide Cut Weekend festival - Oct 15 to 17
Wide Cut Weekend is a multi-venue roots festival with 30+ artists performing in 46 individual concerts from Oct 15-17. Wine-Oh's, Legion #1 (upstairs) are included in the venues. Festival passes are $49 and single day tickets are $25/$30.

Calgary's festival for readers and book lovers! View the rest of our event calendar for all the individual Wordfest events happening from October 13th to 18th at multiple downtown venues.

The Crucible - Oct 13 to Nov 8
There's an evil lurking within the devout community of Salem, Massachusetts, and no one is beyond suspicion. A farmer, his wife, and a dangerous young woman are caught in a flash of hysteria that forces them all to face the ultimate test. Based on the Salem witch trials, Arthur Miller's masterpiece remains one of the most powerful and thrilling plays of our time.

Crash Test Comedy - Every Tuesday Night
Live Stand-Up Comedy!!! YYComedy festival is here! Come down and join Crash Test Comedy as they celebrate Calgary's comedy community. They are bringing you a line up of some of the heaviest hitters they have and maybe even a special festival guest. Who could it be? Show at 8pm $5 at the door
Join Crash Test Comedy each and every Tuesday night at Vern's on 8th avenue for live comedy. Each week they feature a selection of Calgary's finest amateur and professional stand-up comedians.

Day Care Open House - Oct 13 to 16
Visit one of Downtown Calgary's newest early childhood learn centres. Open houses are being held this week and you are encouraged to bring your entire family.
Visit them October 13th, October 14th, October 15th, October 16th for your convenience.
-
Sign up for the Downtown Calgary events newsletter.
---