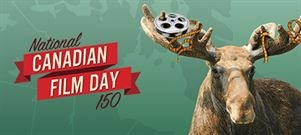 The World's Largest Film Festival. EVER!
On April 19, a massive one-day, coast-to-coast-to-coast celebration of Canadian cinema will be held in honour of our nation's sesquicentennial-National Canadian Film Day 150. 
National Canadian Film Day 150 (NCFD 150) is an initiative or REEL Canada and was created as a new way to celebrate this great nation, embrace Canadian cinema and just have some plain ol' fun!
Just how big is "The World's Largest Film Festival"?
It about 1700 events and almost 100 more around the world! Each province and territory will be hosting screenings of Canadian films in cinemas, theatres, libraries, drive-ins,  community halls, museums, elementary and high schools (basically where ever you can fit a crowd Canadians) and embassies and consulates internationally.
"Thanks to the generous funding from our governments, on April 19, 2017, Canadian film will be everywhere - on foot, online and on-air," said Jack Blum, executive director for Reel Canada.
All screenings are open to the public and FREE. Keep in mind, space is limited and on a first-come-first-serve basis.
There are two screenings happening downtown Calgary. The 14th Calgary Underground Film Festival (CUFF), which is happening from April 17 through April 23, will be presenting Pontypool at 6:45 PM at the Globe Cinema. The other showing is Angry Inuk, which will be presented and hosted by the Glenbow Museum at 7:00 PM. Both screenings will also have special guests in attendance.
Angry Inuk, provided by the National Film Board of Canada
To continue on with the giveaways and Canadiana during Canada's 150th, the organizers of National Canadian Film Day 150, Reel Canada, has partnered up with the Canadian Government, Kernels and Via Rail for various prizes. To learn more about the prizes and contests, visit canadianfilmday.ca.
For more information about the event or how to get involved head to their website at canadianfilmday.ca.
---