I'll be the first to admit that I was born of a strange breed of people that get ridiculously excited about food.  When my boyfriend was courting me he would bring gifts like doughnuts and feta baked salmon instead of flowers, so needless to say, when the opportunity arose to attend a large format (nose-to-tail) feast at CHARCUT, featuring bison paired with beer and wines by BC VQA,  I jumped at the chance!  As if that wasn't enough, it was hosted by none other than John Gilchrist, Calgary expert on all things food.  Seriously?!  I'm not sure how it could get any better?

CHARCUT is one of those restaurants that has a lot of buzz surrounding it and for good reason; they were named one of Canada's Best New Restaurants in 2010 by enRoute and if that wasn't reason enough to check them out, one of their chefs (and owners), Connie DeSousa, was recently announced as a contestant on the upcoming season of Top Chef Canada.
The menu was a meat-lovers dream and exceeded my high expectations.  We started off with Grilled Bitter Greens with House Smoked Bison Bacon and Sour Cherry Vinegar.  Bacon is basically the candy of all meat in my book, so it would have been hard to go wrong here.  Delicious!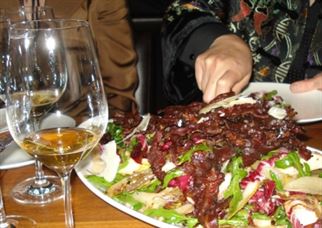 Next up was the Bison Heart Kielbasa with Brassica Mustard.  I may have broken a heart or two in my day, but I can honestly say that I have never eaten one.  It was a much more enjoyable experience, which came as a bit of a surprise.  The lady next to me waited for me to test this one out before she tried it, but in the end we both agreed it was pretty darned tasty.
When the next course came out everyone sat up and paid attention. The Bison Shank CHARCUT Style with Roasted Parsnips and Smoked Preserved Tomato Ragout was a sight to behold. The bone in that sucker would have kept any dog busy for the next several months, and many a Flintstones crack was made.  We learned later that the shanks, which were approximately 8 pounds each, were originally twice that prior to being braised for 16 hours.  They were so tender, and the Brioche Buns that came with them were like little bites of heaven – apparently my heaven involves a lot of butter, but I'm good with that.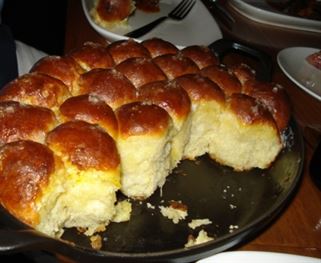 If I were prone to meat sweats this probably would have been around the time they'd be starting, but being full is for wimps - especially when Slow Cooked Bison Meatballs with Mascarpone Polenta is being placed in front of you.  These bad boys were literally the size of bocce balls, and one fellow diner actually referred to them as "Death Star meatballs".   Love it!  The creamy mascarpone polenta and the wine pairing that went with them, a 2008 Firlands Ranch Fireside Blend, which was a lovely blend of Cab Sav, Merlot and little Cab Franc, elevated this classic dish to a whole new level.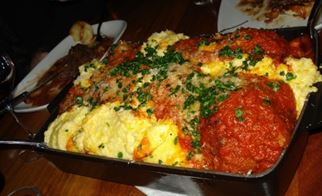 It's safe to say that I wasn't the only one that was a bit nervous to find out how they might incorporate bison into a dessert, but we were all pleasantly surprised by the Vanilla and Saskatoon Berry Cheese Cake "made with bison milk" that appeared next.  Apparently there were no souls out there brave enough to milk a bison, the very thought of which brought to mind a new event for Stampede and conjured up images of rodeo clowns and life threatening injuries, so the cheesecake was actually made from water buffalo milk.  Fortunately water buffalo are a little more docile when it comes to the milking process and we were lucky enough to enjoy this final dish, which incorporated their house-made graham crackers and preserved Saskatoon berries, beautifully presented in a little mason jar.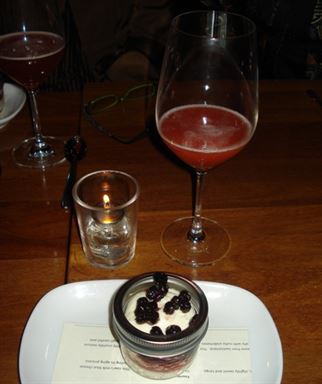 Another unique part of the dining experience was the beer pairings, which I had never experienced before.  Even the dessert came with a beer pairing, a light pink Unibroue Ephemere Blackcurrant that was crisp, tart and refreshing after such a large feast.
At the end of our meal, two of the owners and chefs, John Jackson and Connie DeSousa, stopped by to say hello and answer questions.  It was inspiring to hear John Jackson speak of the Calgary food scene and say that he thinks, "It's Calgary's time to be the next culinary destination."
And to that, John Gilchrist added, "Thanks to young chefs like these guys pushing the envelope and making things happen."
It was a fantastic meal with impeccable service, and great company.  My only regret was not wearing pants with a little more give in the waist.  I think I could have put back another Death Star meatball if push came to shove.
You can check out CHARCUT's multi-course Big Taste lunch and dinner menu options until March 14 at bigtastecalgary.com.
Watch for Connie on April 11th on the season premiere of Top Chef Canada, on Food Network Canada.
---