The Big Taste: Eating with Commentary / Lunch with John Gilchrist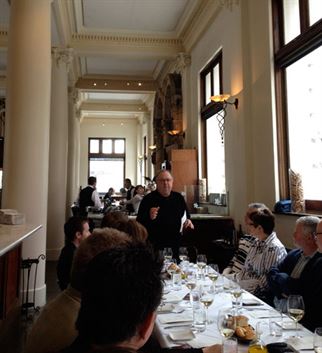 There is nothing more romantic than partaking in a little fine dining in a big old heritage building on blustery winter day. And while my Tuesday lunch hour wasn't the intimate meal with my nearest and dearest as you'd expect, it was absolutely perfect. I attended lunch at Teatro during The Big Taste festival this week, as presented by John Gilchrist.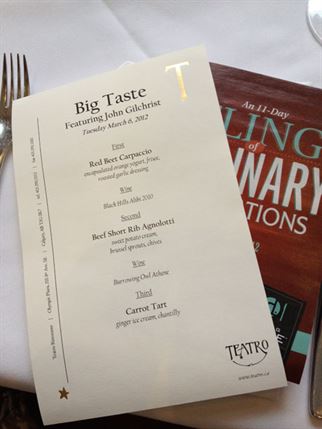 The menu was chockful of delicious local bites from farm fresh beets to a carrot tart.
First Course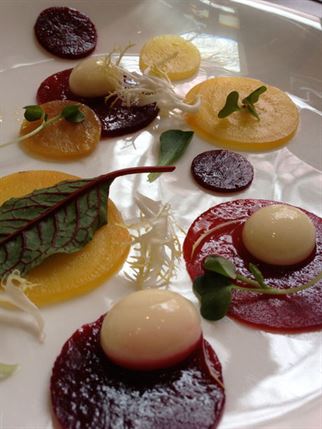 Red Beet Carpaccio  |  encapsulated orange yogurt, frisee, roasted garlic dressing
Wine | Black Hills Alibi 2010
The first course was an artfully beautiful polkadotted plate of sliced beets with these little beads of orange yogurt. John Gilchrist explained the technique as yogurt being dropped in a brine where it then separates into little capsules. Talk about a taste explosion! Our wine choice was from the Okanagan and was the perfect accompaniment to the dish.
Second Course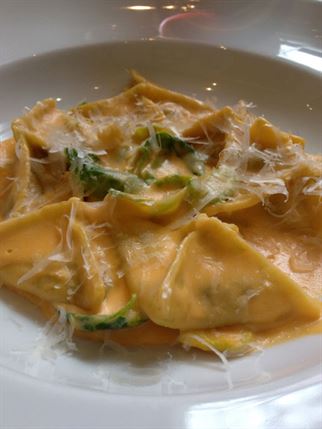 Beef Short Rib Agnolotti  |  sweet potato cream, brussel sprouts, chives
Wine | Burrowing Owl Athene
Another visually appealing course featured the Beef Short Rib Agnolotti. Tidy little pasta packages were filled with melt-in-your-mouth beef short rib and doused in a creamy sweet potato sauce and chopped brussel sprouts. The wine, Burrowing Owl Athene from Oliver, BC was a stunning compliment to the pasta dish.
Third Course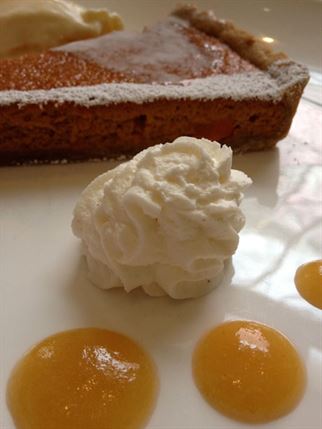 Carrot Tart | ginger ice cream, chantilly
Often carrots don't even enter the realm of desserts but the carrot tart was the perfect way to end the meal. Not too sweet and paired with ginger ice cream, it was as soft and creamy as a cheesecake with an incredible flavour.
I have to tell you that having a verbal commentary to go with your meal is such an incredible experience - you leave the table knowing more about where your food came from, how it was prepared, and essentially - how to enjoy it properly. And who better to provide that commentary than our favourite local food writer, John Gilchrist. You can check out his dining out app here at the iTunes App Store and for the great lunches & dinners happening until March 12 visit The Big Taste website.
---