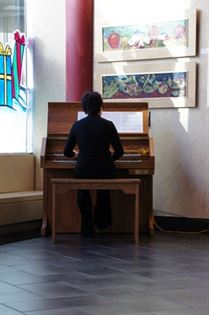 Katherine Chi is a world-renowned pianist who gave her debut recital at the young age of nine.  Since her early beginnings, this local Calgarian has performed throughout Europe and North America and was the first Canadian, as well as the first woman, to win Canada's Honens International Piano Competition in 2000.
Last Thursday, Katherine gave a special live performance on the Calgary Tower's carillon (the unique keyboard instrument whose bell voices can be heard atop towers).  Her performance, featuring a selection of music composed by various Canadians, was part of the High Performance Rodeo's Calgary Carillon Celebration and from noon until 1:00 pm her melodies could be heard in the tower's lobby and throughout the downtown core.
Below is a video of one of her performances:
If you missed her special live performance last week, don't fret!  Every weekday at noon from now until January 27th, an hour of carillon song will ring through the streets of Downtown Calgary.
For more information on the High Performance Rodeo, Calgary's International Festival of the Arts, check out hprodeo.ca.
---