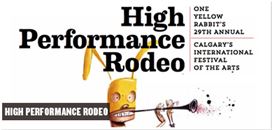 29th Annual High Performance Rodeo, Calgary's International Festival of the Arts, runs January 7 to February 1, 2022 at thirteen venues throughout Calgary.

Jan 7 to Feb 1 - As a part of the High Performance Rodeo, Downtown Calgary presents Carillon Celebration and the Multiambient Urban Trees Sounscape. These two installations combine art, architecture and music to create interesting sonic moments in the downtown core.

Carillon Celebration - Listen each day at noon for a carillon piece written by musician Kenna Burima. You will hear the composition played on the Calgary Tower's giant musical instrument the Carillon. There will also be a live performance January 8 @ 5:00pm.

Multiambient Urban Trees Sounscape - Keep your ears open for Tona Ohama's experimental ambient tones as they are played through the Stephen Avenue Walk 'Trees' sculptures outside Banker's Hall on Stephen Ave.

January 11th - This month Cat Scratch Comedy is going to be fantastic. Our comic guests include Simon King, Noor Kidwai, Victoria Banner, Scoot Laird, Andrew Albert and a guest spot from relative newbie Anjelene Mittelholtz. This is a stacked line up folks, do not miss it.

Plus 15 arts shows
Ongoing - When the temperature dips, Calgarians head in to the Plus 15 system to stay warm on the walks around downtown. Stop by these two art shows happening in the Plus 15 level of the newly named Arts Commons (formerly the EPCOR Centre).

Truck Plus 15 show - Faster Than the Wind: Kinetic Myth featuring artists Richard Müller and Lucy Satzewich.

Tiny Gallery Plus 15 show - The Tiny Gallery Arts Commons show consists 3 small self-contained plinths and features several new artists per year.

Be sure to stop by one of these shows next time you're in, or just passing through Arts Commons.

January 11th - Following the success of SPEM IN ALIUM concert in January 2014, Luminous Voices presents their second program devoted to the spellbinding music of the 15th & 16th centuries.
---