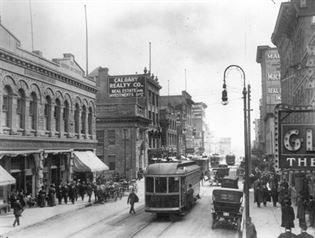 This week's Throwback Thursday photograph is provided courtesy of the Collection of the Glenbow Museum Archives, and it's of Stephen Avenue and 1 Street S.W.  This photograph is notable for its inclusion of an electric streetcar, and that's what we'll focus on today.
The first public transportation system here in Calgary (and the forerunner of today's Calgary Transit as we know it), the Calgary Electric Street Car Railway built and operated a street car system in 1909 to help support a population of 30,000 people.  Passengers boarded the first street car on July 5, 1909.  The system began with 16 miles of track and 12 electric streetcars, and it looped from Stephen Avenue to 17th Avenue and back again.
Its popularity grew and by 1918, limited stop service had been extended to other outlying communities.  The system survived the Depression in the 1930s, and in 1932, gasoline fuelled buses were introduced into the public transit system to serve areas of Calgary that did not have streetcar service.
The 1940s saw streetcars slowly phased out in favour of both diesel and electric trolley buses, and the last regular street car run was made in 1950.  The last street car was restored and moved to Heritage Park, where the public can still see it today.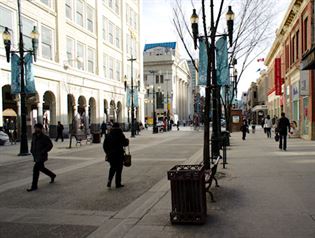 As Calgary's population grew to almost half a million people from 1950 to 1975, the bus and trolley systems were expanded to meet the demand.  By the early 1970s, trolley buses were phased out for diesel buses and by 1978, construction of the first leg of the Light Rail Transit (LRT) system began.  In 1981, the South line of the LRT system from Anderson Road to 7th Avenue S.W. officially opened and expansion of LRT service to the NE and NW soon followed.
Today, the LRT system services NE Calgary up to McKnight, NW Calgary up to Crowfoot Crossing, and the South line has been extended all the way to Somerset.  Further expansion of the system to service other areas of the city is planned for the future.
That's it for this week's Throwback Thursday.  Tune in next week and every week in 2012 for more glimpses into the past of Downtown Calgary.
Do you have any photos of downtown Calgary from the past you want to share with us?  If so send us an e-mail [email protected]
---