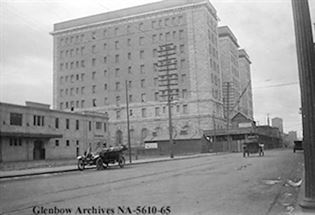 This week's Throwback Thursday photographs comes courtesy of the Collection of the Glenbow Museum Archives, and it's of the Palliser Hotel taken in 1913.
Named after Captain John Palliser, an explorer in the Western Canadian region during the 1850s, the building incorporates the Edwardian style of architecture and was designed by architect Lawrence Gotch of E. and W.S. Maxwell of Montreal.  Built between 1911-1914 on land owned by the Canadian Pacific Railway (by a division of CP Rail called Canadian Pacific Hotels) at a cost of over $1 million, the Palliser became the hub of social life in Calgary hosting political conventions, dinner functions, balls and more.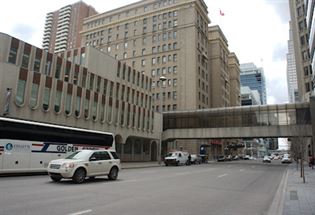 The building was originally 12 stories high with three more stories and a penthouse added in 1929 increasing the number of rooms from 350 to 492, and was Calgary's tallest building until 1958.  The hotel has undergone several renovations and expansions since then, including a complete restoration and renovation in the 1980s and a $28 million renovation in 2000.
In 1999, Canadian Pacific Hotels purchased the Fairmont operator of hotels and resorts and soon after, the Palliser Hotel was renamed to what it is currently known as today, The Fairmont Palliser, where conventions, dinner functions, balls and more continue to take place today.
That's it for this week's Throwback Thursday. Tune in next week and every week in 2012 for more glimpses into the past of Downtown Calgary.
Do you have any photos of Downtown Calgary from the past that you'd like to share with us?  If so, send us an e-mail at [email protected] and it may appear in our weekly segment!
---