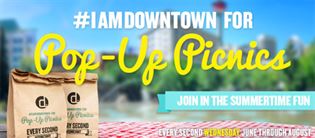 (June 4 & 18)  Join in the summer time fun at one or all of our Pop-Up Picnics happening every second Wednesday starting June 4th, 2014 with a traditional picnic theme. It's BYOL (bring your own lunch) and we will provide some fun activities and entertainment.  Each Pop-Up Picnic will be a at different location, with a different fun theme in the downtown core so check back on the next location and get to know your neighbours.
Our first Pop-Up Picnic of the season is on Wednesday, June 4th at Harley Hotchkiss Park (Courthouse Park 4th Street between 6th & 7th Avenue).  More information here.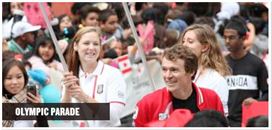 (June 6)  In celebration of Canada's participation in the 2014 Sochi Winter Olympic Games, the Canadian Olympic Committee (COC) is hosting a parade which will run through downtown Calgary to welcome back and honour our Canadian Olympians.
The Canadian Olympic Parade will take place on Friday, June 6, 2022 at 11:30am, and will depart from 8th and 10th Avenue SW, running east along 8th Ave. SW.  The Parade will culminate at Olympic Plaza where an outdoor Celebration will take place with live entertainment and Olympian interaction, including autographs and onstage interviews. More details, including road closure information here.
Fairmont Palliser Afternoon Tea Dance


(June 15)  The Palliser will host a grand Afternoon Tea Dance on the hotel's front street, 9th Avenue S.W. from 2:00–4:00pm. The public is invited to attend this free outdoor event. The program commences at 2:15 p.m., when members of City council will preside over a ribbon cutting ceremony at the hotel's main entrance. Immediately afterward, birthday cake and tea will be served inside the lobby, where swing music by Summit Big Band and dancing by Toe Tappin' Swing will get the crowd going. No need to register, just head down to 9th Avenue at 2:00PM.  Find out more here.


(June 18-22)  The 2014 edition of Sled Island is guest curated by Kathleen Hanna, celebrated musician (Bikini Kill, Le Tigre, The Julie Ruin), feminist activist and zine writer. Each year, the guest curator helps to set the direction and tone of the festival through specialized programming choices and with their presence at the festival.
The festival, now entering its eighth year, will see over 250 bands, film screenings, art events, comedy shows and special events invade more than 30 venues in downtown Calgary.  More details here.
Shakespeare by the Bow - A Comedy of Errors


(June 25-August 9)  Spend a summer's evening in the park and laugh at one of Shakespeare's silliest plays. When two sets of twins, separated at birth, find themselves in the same city, a series of wild mishaps ensue! Starring a company of Alberta's up-and-coming actors, every performance is pay-what-you-will.
This is the third year celebrating young artists of Alberta. Last summer we made national news as the production was washed away due to the floods. It took all of our efforts but the show went on. Now we're back in beautiful Prince's Island Park and this year we are more than ready to laugh with one of the Bard's most delightful comedies. Come back and continue the tradition that is Shakespeare in the Park. More details here.
(All Summer)  In 2013 we launched #IAMDOWNTOWN with a Stephen Avenue block party and a take-over of the 69th street West LRT station.  We covered the entire station with reasons to come downtown, reminding riders that the West LRT is a fast and easy way to get downtown. This year we're going North, taking over Crowfoot Station and we couldn't be more excited!
We've given #IAMDOWNTOWN a make-over for 2014 and with that comes a new contest. Find out how you can win excellent prices here!
Want to be the first to know what's going on in Downtown Calgary?  Sign up for our events newsletter here!
---