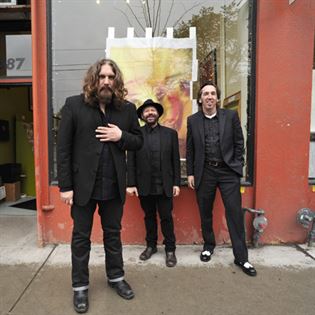 They really tore things up at the Calgary Folk Music Festival this summer, and now Blackie and the Rodeo Kings are about to descend upon the Jack Singer concert hall.  And this time, they're bringing the Queens (and some friends) with them.
Blackie and the Rodeo Kings is the side-project turned full-time gig of three acclaimed Canadian musicians - blues god Colin Linden, folk legend Stephen Fearing, and rockstar Tom Wilson (of LeE HARVeY OsMOND and Junkhouse fame).  They may have started as a tribute band, with the sole aim to produce a single album of cover songs honouring Canadian songwriter Willie P. Bennett, but somewhere along the way these compadres became a bona fide band.  Sixteen years and seven albums later, the musical chemistry among members of Blackie and the Rodeo Kings shows no signs of cooling off.  I don't think you can call this a side-project anymore.  Side-projects don't usually garner a Juno award or a Polaris prize nomination.
Blackie and the Rodeo Kings will be strutting their western wear as they tour their latest release, the Polaris prize long-listed album Kings and Queens, throughout the country.  A brilliantly ambitious project that features duets with some of the Kings' favourite female musicians - everyone from Roseanne Cash to Exene Cervenka, Lucinda Williams to Serena Ryder, Emmylou Harris to Holly Cole - Kings and Queens has been met with rave receptions.   Amy Helm and Janiva Magness, who are featured on the album will make guest appearances at the concert, along with such big hitters as Matt Anderson, Kendel Carson, and Murray McLauchlan.
So slap on your Wranglers, some fringe, and a fancy belt buckle and head over to the Jack Singer on November 23.  This is one show you do not want to miss.
Friday, November 23
show 8:00pm
Jack Singer Concert Hall
tix:  $27.63 - $57.63
Epcor Centre box office online or 403.294.9494
---