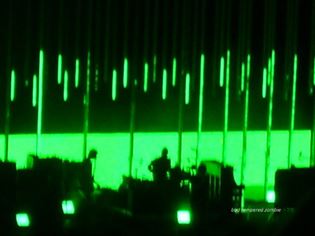 March roars in like a classical lion with several offerings from the Calgary Philharmonic Orchestra. On Thursday, March 7, relive those Rabbit of Seville moments from your childhood as you channel your inner Elmer or Bugs with the CPO's presentation of Opera Hits, part of the Rush Hour Series. Kill da wabbit at the Jack Singer concert hall at 6:30pm. Tix are $25-$37.
On March 8, trip out your Friday night Jack Singer with PFX: the Pink Floyd Experience. Boasting quadraphonic sound, a spacey light show and flying pigs, along with covers of Pink Floyd's greatest hits and rarities, the show promises to be an all-out sensory assault. You know you wanna. 8pm show, tix are $38.13-$58.13.
Opera embraces its passionate side on Saturday, March 9, when the CPO rips the bodice off a romantic Night at the Opera (part of the Destination series) with arias and choruses from La Bohème, Turandot and Il Trovatore. The Jack Singer show is at 8pm, with bonus entertainment beginning at 7:10pm. Tix are $19-$87.
Symphony Sundays are for kids. This month the CPO presents Prokofiev's beloved Peter and the Wolf. Swing by the Jack Singer at 2pm to pet all the instruments prior to the 3pm concert. Tix are $14-$33.
Dust off yer Stetson for some new-fangled new country, Canadian style, as Emerson Drive, Doc Walker and special guest Aaron Pritchett hit the stage at Flames Central (219 8 Ave SW) on Thursday, March 14. Expect a sea of Wranglers and form-fitting plaid. Show 9pm, tix $44.50. Giddyup.
Alex Cuba brings some smoking Latin jazz guitar to Local 522 (522 6 Ave SW) on March 16. Ditch the snow banks and brush up on your Spanish for a sultry Saturday night. Cuba's infectious jazz fusion world music will have you sambaing in your chair. 8pm, tix are $25.
Get your music served up with theatrical aplomb with Hawksley Workman's The God That Comes, one of the offerings from Alberta Theatre Project's Enbridge playRites Festival of New Canadian Plays. Previewing on March 19-20 and playing until April 7, the rock opera revisits the Bacchanalian Greek tragedy and promises to be a night of theatrical debauchery and musical ecstasy. But then, we would expect nothing less from Hawksley Workman, one of Canada's greatest showman. Performances are in the Big Secret Theatre, with tix priced at $40.
Break out the leftover green beer for Celtic Crossroads, which scissor-kicks its way onto the Jack Singer stage on Friday March 22, as part of EPCOR's BD&P World Music Series. Pre-show entertainment by the Doll Sisters will transport you to the Emerald Isle. Pre-show 6pm, concert 7pm, tix from $35-$55.
Get nostalgic. Really nostalgic. When children's performer Raffi brings his Bananaphonecentric show to the Jack Singer stage on Saturday March 23, at the family-friendly time of 2pm, you'll be singing along with every word. You don't forget a classic like Baby Beluga, after all. Tix are $30.13-$67.63, with proceeds benefiting the Centre for Child Honouring. Holders of the spendier tickets get to meet Raffi in person after the show.
Knox United Church (506 4 St SW) is the perfect setting for the Calgary Bach Festival Society's performance of Magnificat on Sunday March 24. Surrounded by dark gleaming wood and magnificent stained glass windows, and with the church's utterly perfect acoustics, you'll get the chills when those glorious soaring notes begin - guaranteed. Doors at 2pm, tix from $15-25.
You do not want to miss this one. One of Canada's most prolific (and under-rated) musicians visits the intimate stage at Theatre Junction Grand (608 1st St SW) on Tuesday March 26. Ron Sexsmith has been called a musician's musician, and with good reason. His beautifully melancholic songs are at once universal and intensely personal. Check out the all-ages show at 8pm, tix at $32.50.
Get ready to kick March to the curb when Matt Mays blows into town like an El Torpedo. The shaggy dude will be bringing his brand of high octane stoner rock to Flames Central (219 8 Ave SW), supported by the rootsy bluesy duo July Talk. Show 8pm, tix $33.75.
There is something for every musical taste happening downtown in March. Get out there and treat your ears to some live music!
---