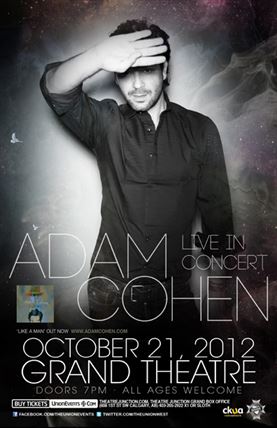 Evidently the Cohens like Calgary.  Leonard, the elder, has graced the Jack Singer concert hall with his presence in recent times, and is set to return to town in November.  This time around, the poet/ladies' man/musical legend will be preceded by son, Adam.
The Cohen offspring is following in his famous daddy's footsteps, wowing audiences and winning hearts everywhere he goes.  Expect an intimate evening of heartfelt musicianship when Adam Cohen takes to the stage at Theatre Junction Grand on October 21.
His new album, Like a Man, has been garnering critical approval in the past year, as he tours it around the world, backing big names like Bob Dylan and Norah Jones in France, Rachael Yamagata in Korea and Rufus Wainwright in the U.S.  With a back catalogue of albums in both English and French, don't be surprised to hear a completely cosmopolitan approach to the evening's performance.  Ooh la la.
Adam Cohen & guests @ Theatre Junction Grand
Sunday, October 21 - all ages
doors 7, show 8
advance tickets $36.23 online at Theatre Junction Grand box office or at 403.205.2922
---