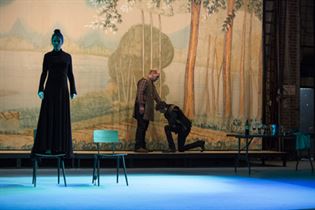 Tristan and Isolde is a legend of tragedy and of love. Richard Maxwell has taken this legend and put it under a contemporary lens in Isolde, presented by Theatre Junction Grand. Maxwell spins the story into a modern tale of an artistic architect Massimo (Gary Wilmes) who is having an affair with Isolde (Tory Vazquez) while designing her dream house for her and her husband Patrick (Jim Fletcher).
There is a very distinct style that the actors take on in this play. It's like they are wearing a mask, as Artistic Director of Theater Junction Grand Mark Lawes describes it. They say their lines at each other, but one line isn't actually a response to what the character said before. All of this narrative is performed with the house lights on. Audience members see the actors walk across the bare stage and sit in chairs and recite their lines. It's supposed to sterile retelling that lacks any of kind of poignancy and richness.
Towards the end of the play, in a striking scene, the legend of Tristan and Isolde is told with costuming and a sword fight. Maxwell is trying to pull all the threads together and link the modern telling to the legend. It allows the production to be more engaging and it allows the audience to build a bit of a connection to the characters.
Sascha Van Riel's scene design is intentionally plain and lacks colour. Simple chairs sit in the centre of the stage, with a table in the background. Romy Springsguth's costume design has the guys in jeans and flannel shirts and Isolde in a black skirt and a summer top. She later changes into a black dress.
In the central telling of the story, the characters speak without feeling, without expression. It is a telling that lacks any connection. It is certainly Maxwell's style and the story unfolds with a certainty and intention. But the entire narrative is devoid of the magic of theatre.
Theatre Junction Grand's presentation of Richard Maxwell's New York City Players' Isolde runs until February 13th. More information is available online.
---