The spookiest night of the year falls on a Friday in 2014!  Here's a sampling of some fun things happening downtown for both young and old…
The Palomino Smokehouse will play host to a number of great live music acts including The Blind Shake, Fist City, Hook & Eye, The Nancees, Hagface, Plastik, and The Rumble. Tickets are $15 in advance at BigTickets.ca and Sloth Records.
HAVE SOME "MUNSTER FAMILY" FUN AT G.H.O.S.T.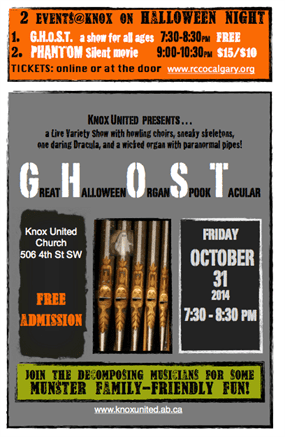 Knox United Church has a double header of Halloween Fun on October 31st, starting at 7:30pm with "G.H.O.S.T." a family-friendly, live variety show. Admission is free.
THE PHANTOM OF THE OPERA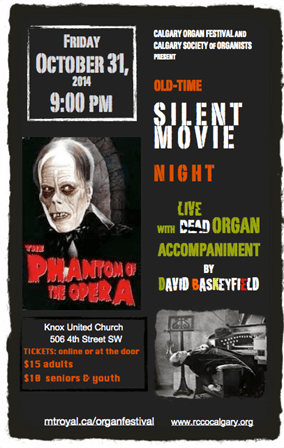 Knox United Church will also host a special Halloween night only screening of the 1925 classic film "The Phantom of the Opera." This one of a kind event will showcase the classic silent film with a live accompaniment on their massive pipe organ by internationally renowned organist David Baskeyfield.
BEHIND THE SCENES: HALLOWEEN TOUR AT THE GLENBOW MUSEUM
Pop by the Glenbow Museum on October 28, 29, or 30th at 6:00pm for a special Behind the Scenes: Halloween Tour of the haunted halls of their collection storage area, where you can view some of their spookiest artifacts. Please note that the tour begins at 6:00pm sharp - latecomers may not be admitted. Members $12/General $15.
VICTOR & VICTORIA'S TERRIFYING TALE OF TERRIBLE THINGS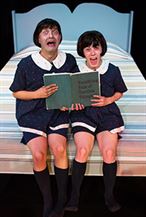 The Big Secret Theatre at the EPCOR Centre will host Victor and Victoria's Terrifying Tale of Terrible Things from October 22 – November 1st.
The story, which is said to be, "Inspired by the macabre stories and gothic artwork of Edward Gorey and the darkly comic films by Tim Burton…" is about fraternal twins, Victor and Victoria, who discover a mysterious book revealing a deep, dark family secret. It is written and performed by Nathan Cuckow (BASH'd! A Gay Rap Opera) and Beth Graham (The Drowning Girls). I had the pleasure of seeing BASH'd a few years back during the High Performance Rodeo, and it was excellent!
CALGARY GHOST TOURS
Get ready for a journey through the night to several downtown Calgary buildings that are rumored to be haunted.  Your host, dressed in a black cape, top hat and carrying a lantern, will recant stories of Calgary's past featuring characters who are no longer living, but somehow still with us.  Bring comfortable walking shoes and a sense of humor. Multiple tours available between May-November. More details here.
CLUE AT NATIONAL ON 8TH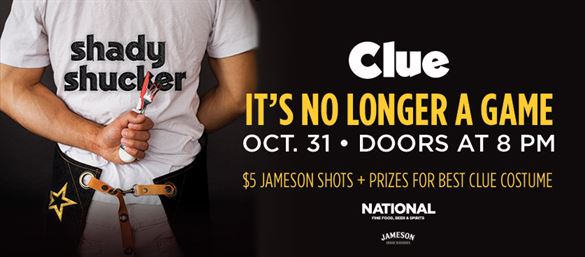 Who did it?! Find out at National on 8th this October 31st, as they pay homage to the classic mystery board game, Clue. Patrons are asked to come as their favorite Clue character. Prizes for best costume, shots of Jameson on special for $5. Was it Professor Plum in the bathroom with a beer stein?  You be the judge!
ROADHOUSE JAILHOUSE HALLOWEEN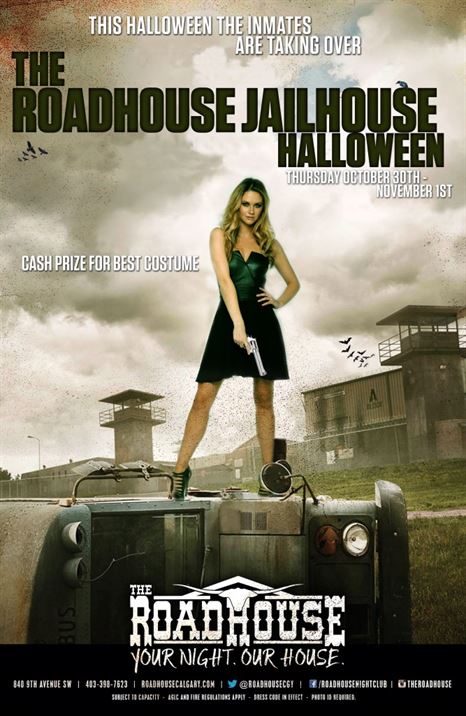 Inmates will be taking over The Roadhouse for a weekend long Jailhouse Halloween Party from October 30-November 1 at 8:00pm. Cash prize for the best costume.  Don't drop the soap!
HALLOWEEN HOWL
Need a way to feel less guilty about eating all that Halloween candy?  Sign up for the Halloween Howl on October 25, 2014. This family friendly race starts at Eau Claire Market with a fun pre-race festival, starting at 4:00 pm featuring in-costume portraits by a professional photographer, face painting, fortunetellers and more!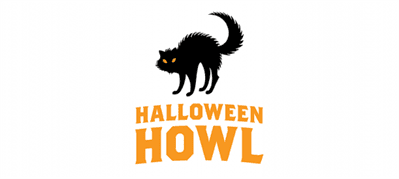 They will also have pumpkin carving in the atrium at Eau Claire Market on Tuesday, October 21st from 11:30AM–1:30PM, and Wednesday, October 22nd from 4-7:00PM.
THE SMALLS AT FLAMES CENTRAL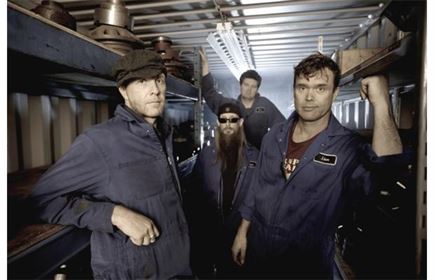 The Smalls will play Flames Central on October 31st.   "Formed in 1989, the smalls were to Alberta what Nirvana was to Seattle. They sold over 40,000 albums independently and built a voracious fan base that has mourned their break up ever since they played their last show together in Edmonton on October 20, 2001." Don't miss your chance to see them again live!  Doors at 8:00PM
Fore more ideas on what to do check out our downtown events calendar here.
Whatever you get up to this Halloween, we hope you have a fun and safe time!
If you know of any other great events happening in the downtown core we'd love to hear about them. Send us an e-mail [email protected]
---