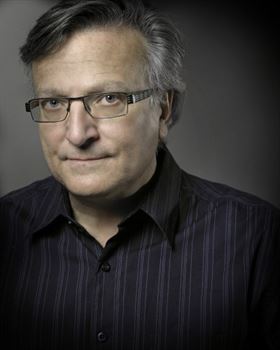 Back in November 2011, Arun Lakra won the Alberta Playwriting Competition for his play Sequence. A year and a half later, Downstage Theatre and Hit and Myth Productions have come together to put on a full production of Sequence, and Kevin McKendrick has been asked to direct the play. McKendrick was around during the workshop that took place a year and a half ago and is excited to assist in bringing the full production to stage.
"It's a handful," McKendrick says, "this play has got a ton of ideas in it, all kinds of opportunities for theatrical invention, [and] it's very exciting,"
Sequence tells the tale of two sets of people. A professor, whose life's work has been to pinpoint the genetic disease that has made her legally blind and the exceptionally unlucky student that pays her a visit, as well as a pregnant young woman and the author who is exceptionally lucky.
"There are some wonderful challenges," McKendrick states when asked about what struck him about the script. Challenges like "how do we let the audience make up its mind about how connected these two couples are?"
The couples have similar names and similar backgrounds. Lakra wanted to keep the ambiguity alive in the play. "As a director the challenge is how do you plant the seed in the audience's mind that they could be connected, but at the same time not make it confusing, so that the idea that they are not connected at all is also present," McKendrick explains. McKendrick was also struck by the quality of writing.
"We don't get an opportunity often in this country to find new plays that are just so smart [and] sophisticated in their ideas and in the character development."
Staging Sequence also has some interesting challenges. "The biggest challenge that we're facing right now, which is wonderful to solve is connecting one scene to the one that comes after without a noticeable gap," McKendrick says. He is also striving to have the audience get "the idea that these worlds [in the play] are overlapped, or that there is a matrix going on of some sort."
McKendrick has a full team to take on the challenges though. "It's a top notch cast. Every actor is not only talented, but very bright. So you've got a room full of very strong minds, attacking every problem, which makes my job so much easier," McKendrick says.
Sequence deals with some provocative ideas. Stem cell research, religious fundamentalism, love versus luck.
"[These] are some very important issues that we as people have to wrestle with and theatre is the real place to do that. Because you can bear witness to it rather than being involved with it in the first person basis," McKendrick states. The play has characters that are fighting for their lives and fighting for their beliefs.
"Do you fight for science or do you fight for creation? Do you fight for luck and chance or do you fight for divine intervention?" The play brings up some complicated questions and answers.
Downstage Theatre and Hit & Myth Productions presentation of Sequence commences tomorrow. Tickets and more information is available online.
---