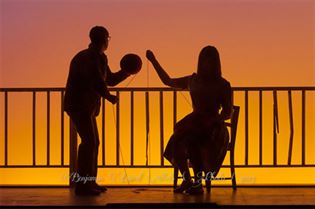 This is a post by guest blogger Janice Clark. She's an an accountant that loves to write and especially loves living downtown and partaking in all things downtown Calgary. If you're interested in blogging for GetDown, learn how here.
Vertigo Theatre's production of The Ends of the Earth, a play by Canadian award-winning playwright Morris Panych, takes you on a quirky journey through two men's fear and paranoia.
Fear is a Self-Fulfilling Prophecy.  This tagline, taken from the Vertigo theatre website, perfectly represents The Ends of the Earth.  Have you ever felt that someone is following you?  Did these feelings transform into paranoia so strong, that it ruled your life?  Well, I hope not because that would be frightening, but that is the captivating premise of The Ends of the Earth.
Frank Gardener is neurotic and unassuming, with a desire to go through life unnoticed. Bored while waiting at a bus stop one day, Frank exhibits some innocent, but strange behaviour.  By chance, Henry Walker, unlucky in life since getting struck by lightning at age 3, is at the same bus stop and can't help but notice Frank's somewhat off beat conduct.  Their eyes connect, awkwardness ensues and this moment sets the play in motion, each man now certain that the other is following him.  Efforts to evade each other only serve to bring them closer together – culminating at a ramshackle, rarely-visited hotel, at The Ends of the Earth.
The Ends of the Earth is a dark comedy which sets it apart from the typical Vertigo performance, normally packed with mystery, intrigue and a high body count.  This play not only has these components (albeit fewer deaths) but adds a generous dose of humour.  The result is a delightful combination of sitting-on-the-edge-of-your-seat suspense…and then laughing while perched there.
Five talented actors round out the cast, three who impressively play multiple characters.  Each actor plays his or her role with remarkable believability, no matter how strange or off the wall.  As the plot develops, we discover the close connections among the characters and how a seemingly innocuous comment or action can affect later outcomes, one building upon the next until the truth is exposed.
So, is it paranoia based on coincidence or is there truly something sinister for Frank and Henry to fear?  I'll leave that for you to discover.
The Ends of the Earth is playing until April 7th.  You can get your tickets online or visit their box office. Vertigo Theatre is located at the base of the Calgary Tower (115 - 9 Avenue SE), in the heart of downtown Calgary.
Go early and try one of their drink specials.
---