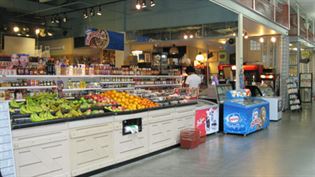 Eau Claire Market is a collection of diverse shops and services located downtown at 200 Barclay Parade SW, near the magnificent Bow River and Prince's Island Park. Adjacent to the market is their outdoor space, which includes a wading pool, perfect for cooling off during a hot summer day and their Festival Plaza, a gathering place for a number of the city's many celebrations.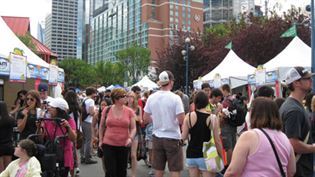 Included in the festivities that they host each year is the Taste of Calgary. The Taste of Calgary provides the opportunity to savor the flavors from various restaurants located throughout the city, sample yummy adult drinks in the beverage garden and listen to local entertainment – all at one convenient location. Sadly, the Taste of Calgary is over for another year, so put it in your calendar for next year. Do it now! You will not be disappointed and you now have almost a whole year to look forward to it.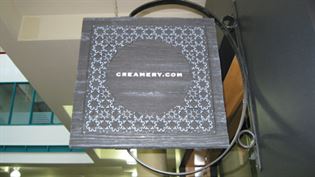 Besides such outdoor festivals, Eau Claire Market houses a selection of speciality shops, many which are exclusive to Eau Claire. It is not your typical mall, so be sure to step inside to discover what resides behind that colorful exterior. Is your skin craving some moisture? The Creamery whips up custom-made natural skin-care products in your favorite scents and includes face cream, body butter and many other delicious products.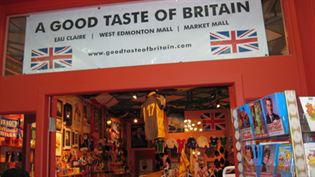 Are you searching for your favorite hard-to-find imported consumables? Then check out Island Foods - they have foods from around the world, so your search may just end there. If it is the UK you are longing for, A Good Taste of Britain can help you out with your favorite overseas chocolate or rugby jersey.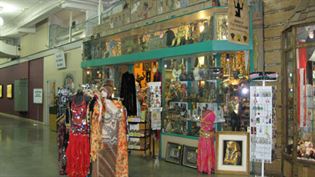 Zen & Accessories is full of unique colorful clothing and bags that are fun to search through, while the Son of the Pharaoh is great for one-of-a-kind gifts. Are there too many shops and not enough time? Perhaps the resident psychic can guide you to your treasure!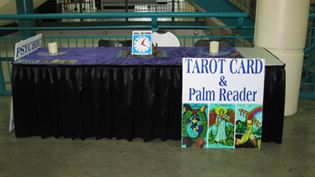 If you are peckish after shopping and want a quick fix, head to the food court (which has an indoor playground for kids) for a sub sandwich, taco or other goodies. Satisfy a bigger appetite with a meal at the Garage Sports Bar or Joey's Restaurant. If you are craving the warm sun on your face during the summer months, get your munchies to go and stroll to the park for a riverside picnic.
During those rainy days or cold winter months, stay cozy and warm your insides with a nice hot meal. Then forget your worries for a couple of hours at the Cineplex Odeon on the second level. Of course, warm, buttery popcorn is a must.
There is plenty of parking available at or around Eau Claire Market. You can choose from pay parking lots (which are discounted to $2 flat rate on weekends and evenings after 5pm) or on-street parking (which is free evenings after 6pm and Sundays). If you are into pedal power, Eau Claire Market is just a few spins of your tires away from the bike path and has plenty of bike racks.
Eau Claire Market is really a place where indoors meets outdoors.
The BBQ on the Bow Festival takes place at the Eau Claire Festival Plaza on Sunday, September 1st. Take in the bands; try some BBQ from the vendors and watch the competition - then head indoors for a little shopping.
For a complete list of Eau Claire Markets shops, services and events visit their website at http://www.eauclairemarket.com/.
---