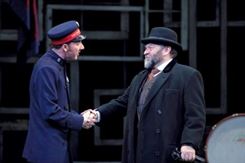 George Bernard Shaw's Major Barbara was written and is set in the early 1900s, but this dialogue heavy play still has overarching themes and presents arguments that are still quite relevant today. Theatre Calgary's presentation of the play features some strong performances that highlight the broad ideas that will launch the viewer into deep discussions long after the play is finished.
The play tells of Barbara Undershaft (Gretchen Hall), an officer of the Salvation Army who becomes disillusioned by the organization because they wind up taking a large donation from her father Andrew Undershaft (Dean Paul Gibson) and a whiskey distiller. This sets Barbara on a winding path of philosophy and morality when Andrew offers her fiance Adolphus Cusins (Nicholas Pelczar) to take over for him in his munitions factory.
The first thing to notice about Major Barbara is that it is a script dense in dialogue that investigates the subjects of morality and the system that we have built within society. The arguments are so probing, that one almost wants to rewind certain portions and play them again. The play is backed by some strong performances, especially Gibson as Andrew, being able to deliver his longer speeches with an even hand and Hall who portrays her disillusion with the Salvation Army quite nicely.
Also of note are Kandis Chappell as Lady Undershaft providing the sarcastic humour and constant belittling of almost everyone in her family and Stafford Perry as the simple Stephen Undershaft. Daniel Ostling's cluttered set design is a circle of windows, some broken that surround the stage. When the play changes location, a chandelier drop down along with empty frames, or bomb shells hang from the ceiling when the cast is in the factory.
Theatre Calgary's Major Barbara has got a lot of philosophy within it's dialogue. Andrew is the main vehicle for this philosophy, arguing that 'fools fear crime, we all fear poverty,' to justify his religion of being a millionaire. He talks about how he arms the 'whoever wants to take on those who are more intelligent', and how 'elections just change the names of the people in cabinet, whereas guns changes the system'. It's all a lot to digest but it's worth it.
Theatre Calgary's Major Barbara plays until March 9th. More information is available online.
Photo: Nicholas Pelczar, Dena Paul Gibson.  Photo Credit: Pak Han.
---