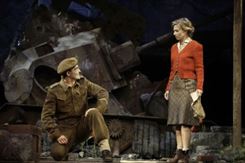 Canada and the Netherlands were thrown together after the Second World War. Canada liberated the Dutch from German occupation and it is this relationship that Theatre Calgary's Liberation Days explores. What happens to a country after it has experienced the brutality of German occupation and then liberation by another country. It absolutely is not the same as it was before the war. No matter how hard the act of changing is.
The play centers on young Canadian soldier Alex King, (Byron Allen) who in the rubble of war, meets Emma de Bruijn (Lindsey Angell) a young Dutch woman who is now the head of her house, having lost both her father and brother in the war. She decides to go out with Alex, against the wishes of her mother Aaltje de Bruijn (Valerie Planche).
Aaltje is jolted how the war has changed her country and how she feels as if she is moving further away from Catholicism. Dominee Herman van Edmond (Duval Lang) is trying to keep his congregation together and his son Jan (Jonathan Seinen) from falling apart. Miles Cavendish (Garett Ross) is trying to keep his soldiers in line as their work of fighting the war is over, while Marijke is trying to leave everything behind.
Things are falling apart in Liberation Days. The war is over, but its ugliness reaches over and colours the characters in the play. Emma doesn't want to stay in the ruins of her village because of what the war did to her family. Jan can't escape what the war has done to him and neither can Marijke who is being punished for having a German boyfriend before the war.
Cory Sincennes' set design is outstanding in combination with Jamie Nesbitt's projection design that blend together to illustrate the destructed village in the Netherlands in 1945. Large trees drop into the set to change the setting and the production makes use of Maxbell Theatre's spinning stage. All of the actors worked hard with Dutch Language and Cultural Consultant Dymphny Dronyk, as the language of the play is bang on. As the characters switch from English to Dutch their accents are true to life.
The play features strong performances, especially from Ross as the humourous Cavendish and Lang as Dominee. Seinen puts on a touching performance as Jan, letting the audience sink into the demons of the war that haunt him. Planche's portrayal of Aaltje allows the audience to see how she struggles with all the changes in her life.
Can you find joy in the rubble after the war? Liberation Days shows how complicated it is. How there are many layers and it isn't simple to just move on from war.
Liberation Days runs at Theatre Calgary until November 9th. More information is available online.
Photo: Byron Allen, Lindsey Angell
Credit: Trudie Lee
---