Planning something special for your better half this Valentine's Day?  If you're looking for date ideas that are a little different than dinner & a movie here are a few to consider.
FOR THE MUSIC LOVER
The Calgary Philharmonic Orchestra will present Romeo and Juliet on February 14 & 15.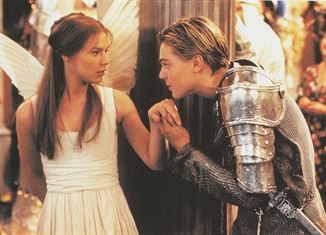 Conductor Roberto Minczuk will take you on a musical journey of Shakespeare's star-crossed lovers through pieces by Tchaikovsky and Berlioz. More details can be found here.
DESSERT FOR DINNER? YES, PLEASE!
While this doesn't actually take place on Valentine's Day, every Monday evening from 5:30-9:00pm, The Rimrock at the Fairmont Palliser hosts their "Death By Chocolate" dessert buffet, which is described as "a chocolate fantasy that you've imagined only in your sweetest dreams." This must be what the Eurhythmics were singing about!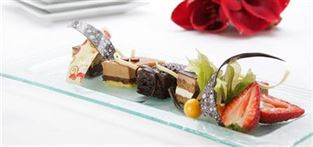 You can experience it as a meal for $28 or as dessert for $18 per guest. Not sure if I could eat $28 worth of chocolate, but God knows I'll try.  Reservations required.
DANCING CHEEK TO CHEEK
A Slow Dance Party?  That's right.  A Slow Dance Party!
On February 14th the Auburn Saloon will welcome slow-dancers of every gender and sexuality, attached or single to Slow Dance Party #6: Be My Valentine.  Tickets are only $10 at the door, cash only. Proceeds from the event will be donated to Camp fYrefly, Canada's only national leadership retreat for lesbian, gay, bisexual, trans-identified, two-spirited, intersexed, queer, questioning, and allied youth. More details here.
FOR THE LOVE OF WINE

The Cellar Fine Wines & Spirits will host The Sweet and The Sticky on Feb. 14th where you can try a variety of sweet wines with desserts paired to match. Registration required.
GET SCHOOLED
Learning something new together is a great way to have fun and bond, unless of course your significant other is teaching you to drive or snowboard. The only thing I learned there was a new vocabulary.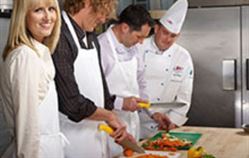 This Valentine's Day from 6:00-9:00pm, the SAIT Culinary Campus is holding a special cooking class for couples only where you will learn how to cook a romantic meal for the two of you.
A NIGHT (OR DAY) AT THE THEATRE
He Said, She Said is the latest play at the Lunchbox Theatre. This romantic comedy by Neil Fleming and Glenda Stirling runs now until February 23rd from Monday to Saturday at 12:10 pm, "Happy Hour" Fridays at 6:10 pm, and "Date Night" Saturdays at 7:30 pm.
Described as "a terrifying and hysterical look inside the mind of the opposite sex as one couple navigates the complexities of romance in the modern world." Read a review here.
A VIEW FOR TWO
Nothing screams romance like a beautiful view. If you're trying to impress your date, these picks won't disappoint.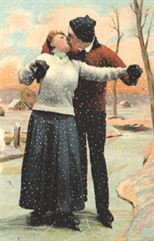 River Café is offering a special multi course tasting menu with fish, game and vegetarian choices. You can enjoy their wine pairings, or select your own from their award-winning cellar. Their regular a la carte menu will not be available that evening. Reservations required.
Another lovely option is Sky 360 at the top of the Calgary Tower. This gem is not just for tourists!
At 155 metres in the air, the revolving restaurant lives up to its name as it gives you a 360 degree view of our beautiful city once every 45 minutes during lunch and once per hour at dinner. Elevation fees are complimentary when you order an entree.
Love food?  You might want to wait a couple of weeks and celebrate your Valentine's Day during The Big Taste, Calgary's Dining Festival on March 1-10, 2013.  Ten days of feasting on one-of-a-kind menus, including several special ticketed culinary events.
If you're looking for more fun ideas click here. If you have any other suggestions we'd love to hear what you're up to!
Romeo & Juliet Photo via Flickr
---