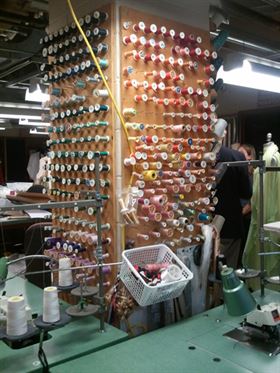 Do you have a desire to be more involved in the Calgary theatre scene? The Theatre Calgary Dress Circle might be the experience you are searching for! 
Theatre Calgary offers Dress Circle memberships that come with a plethora of benefits, exclusive to the Dress Circle members. One of these fabulous perks is access to the W.O. Mitchell room, complete with comfy chairs and tables - the perfect atmosphere to discuss the performance with your theatre-going cohorts.
Arrive early, imbibe in a few pre-show complimentary beverages and enjoy some snacks. Pre-order your intermission drinks and you will find them waiting patiently for you at your table. The membership also includes:
Voting privileges
Two guest passes
Acknowledgement in the programmes
Two tickets to A Christmas Carol
Charitable tax receipt (less the value of benefits)
In addition, you will receive invitations to information sessions and behind-the-scenes events throughout the year. This is truly one of the most unique and special perks. Each session provides access to information about the play that you aren't normally privy to, offering insight and extra-special meaning.
The most recent event was a behind-the-scenes look at the wardrobe design for the Great Gatsby. Wow! There is a lot more to costume design than meets the eye. Judith Bowden, costume and set designer, took members on a journey through the costume design process, demonstrating how the significance of a scene can be portrayed not only through the actor, but through their clothing as well.
This was particularly true for the character of Daisy. Daisy's attitude, people's perception of her and her emotional state in each of the scenes are captured in the design of her outfit - the color, the texture, the way the garment flows, are all integral to the design. Judith also shared the intricate original drawings of the costumes upon which the wardrobe was ultimately created. What a special treat!
The night culminated with a tour of the costume shop where the outfits are hand-made. To see the equipment, thread, fabric and the countless costumes in various states of completion was truly awe-inspiring. The result was an increased level of connection to the play (the goal of each event). Why, yes, I do know why Daisy is wearing a green dress during that scene!
Oh, and if that wasn't enough to entice you, beverages are provided, along with scrumptious food from various Calgary establishments.
If you want to support Theatre Calgary and be super-Santa this year, wrap up one of these memberships for that extra-special someone (don't exclude yourself!). It's the gift that keeps on giving all year.
Please note that the membership must be purchased in addition to season tickets. For a complete list of benefits and next year's availability and prices, contact Theatre Calgary.  www.theatrecalgary.com.
---