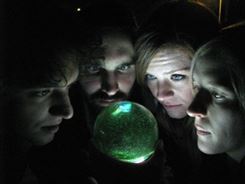 Red Phone Theatre's newest production Straight on 'Till Morning explores the ideas of magic and fairies. It leans on J.M Barrie's Peter Pan, quite heavily. The director's note in the program urges the audience to make believe, instead of buy in. We are urged to make believe that an adult reality is just as magical and lacking commerce as a child's. As an audience member of the play, it is difficult to the point of being almost impossible to 'make believe' with Straight on 'Till Morning.

The play follows Gagnon (Kelly Malcolm) who is sufferring from memory loss and is trying to get back her memories by working with her friend James (Ian McFarlane). She is also dealing with the fake marriage of her friend Liliana (Jennifer LeBlanc) to Darling (Ryan Reese).
There are many pieces and scenes that try to fit together in the hour and twenty minutes that the play spans. But it's convoluted and all over the place. The play has some great ideas, and when it finally all comes together in the last ten minutes, the audience is left feeling like the denoument was great. But it took an hour of exhaustive, messy, mindless production to get to that point. The character interactions don't make sense and lack motivation, the pieces don't fit together enough so that the audience can emphasize with the characters, or really decipher what is going on. The play seems like it's caught between being a play for adults and children. Straight on 'Till Morning has got some good ideas, but they fall apart when stitched together.
Red Phone Theatre's Straight on 'Till Morning runs until November 30th. More information and tickets are available online.
Photo Credit: Kathryn Smith.
---