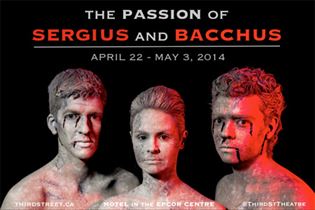 In their latest production, Third Street Theatre explores the story of Sergius and Bacchus, fourth-century Roman Christian soldiers, who are revered as saints. The company decided to focus on the relationship between Sergius and Bacchus and have created a play inspired by John Boswell's book "Same-sex unions in premodern Europe."
The Passion of Sergius and Bacchus tells of Roman Soldiers Sergius (Simon Tottrup) and Bacchus (Matt McKinney) who have a secret that they decide to divulge to their close friend Antiochus (Amy Sawka). They have become Christians and have been wed by Christian church officials in a 'brother making' ceremony.
Antiochus vows to keep their secret, but hopes that they will give up their 'Persian cult'. But the Roman Emperor (also played by Sawka) gets a hold of the fact that the soldiers have pledge their allegiance elsewhere and orders them to sacrifice to Jupitor or suffer the consequences.
The play has the elements to be a highly dramatic, elegant story, but comes off as thin and pieced together. All three cast members do their best with the script but the production lacks heart. It is unable to tap into any emotion and therefor the audience doesn't feel deeply attached to any of the characters. The performance reads as a telling of history.
There are some bright moments within the play, namely the use of bright sheets that hang across the stage, serving both as props as well as a backdrop. Leon Schwesinger's costume design is fitting and his lighting design is interesting when it sparks to life in the second half.
Third Street has the seeds of a compelling story with The Passion of Sergius and Bacchus but it doesn't quite blossom.
Third Street Theatre's The Passion Of Sergius and Bacchus runs until May 3rd. More information is available online.
---