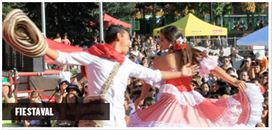 July 19th & 20th - Fiestaval is a 2-day FREE multicultural arts and entertainment festival highlighting the Latin American Culture. It is an opportunity to support Calgary's Latin community while encouraging multiculturalism among all Calgarians. Central to its distinction is that Fiestaval is a FREE, family-oriented alternative for celebrating multicultural arts and entertainment in Calgary. Fiestaval will take place in the heart of downtown Calgary at the Calgary Olympic Plaza on July 19 and 20 2014.

Empowerment Seminar For Women
Saturday July 19th - The Nurture Yourself Program, which works in partnership with Calgary Family Services is offering our very popular Empowerent and Self-Esteem seminar for women on Saturday July 19th.

This seminar is open to everyone!

Saturday July 19th - The #IAMDOWNTOWN stage is back on Stephen Avenue. Join us over the noon hour for some great local talent, as well as some future superstars! All performances will be at on the 100 East block of Stephen Avenue (8th ave) between Milestones Restaurant and the Telus Convention Centre, unless otherwise noted.

This week's performance features JK & The Relays and kicks off at 2:30 pm

Thursday July 17th - Join Mark Lakeman and Mighk Simpson from Portland as they provide an overview of how North American communities are retrofitting their neighborhoods through grassroots involvement. By gathering and discussing how they experience and feel about their own communities, residents are able to identify both strengths and places for improvement in the environments where they live. In short, we will look at how we can create the sense of living in a village in the city.

More
Glenbow Behind the Scenes Tour
Thursday, July 17th - Visit our conservation labs and learn about the painstaking work our team puts into maintaining Glenbow's very own "masterworks." Members $12/General $15. Call 403.268.4110 for tickets.
---