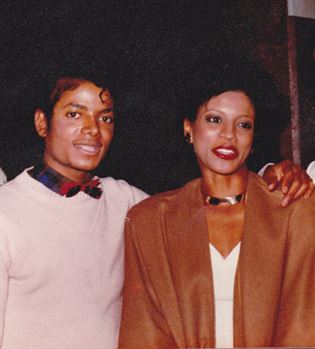 Ever wonder what it's like to tour with Michael Jackson? We've got sensational vocalist Marva Hicks joining the CPO, and when we heard that she had toured with Michael Jackson, we just couldn't resist the opportunity to ask her about her experience with the King of Pop!
Catch Marva Hicks' performance with the CPO at Jazz Giants: Ella and Louis, coming up on May 2 & 3. And don't miss our special tribute to Jackson on May 16 & 17, when Jeans 'n Classics joins the CPO for  Thriller: The Best of Michael Jackson.

How did you come to perform with Michael Jackson?
Marva Hicks: I was living in Los Angeles and one of my best friends was studying with an associate of the great vocal coach, Seth Riggs. Michael was also a student of this vocal technique and when he needed a new female backing vocalist, he put the word out through Seth's teaching associates. My friend suggested I submit my demo. I did and shortly afterwards I received a call from his then-musical director, Brad Buxer. Brad and I had worked together some years prior in the Stevie Wonder Band. Even though it is a "who-you-know" kind of world, I believe your work reputation is what gets you the job. I was invited to come in and meet and sing with the other backing vocalist. I did not see him but I felt Michael was behind the studio glass listening. Then I was offered the job.
When did you first perform with Michael Jackson, and what were you doing?
MH:  Our first trip out was to Brunei in 1996, doing a private concert for the Sultan, his family and friends.  It was the BAD Tour show. I got to be the girl that struts across the stage in The Way You Make Me Feel. Fun! We only did this show a few times before returning to LA to mount the HiStory Tour.
Did you every sing a duet with Michael Jackson? If so, what was the song?
MH:  I had the distinct honor of singing The Way You Make Me Feel! I loved and cherished every minute of it.
What is your favourite memory about working with Michael Jackson?
MH: I loved that he would come together with the band as we circled up before each performance, get centered and give thanks for our amazing work. During a trip to Australia my mother became seriously ill. He pulled me aside and thanked me for doing the show that night and assured me that I would be on the first available flight to my hometown the next day. Then he sent flowers to the hospital and his management would check in once in a while to see how she was doing. His love for his mother was evident in his kindness towards me and my mother. And I was instructed to stay with my mother as long as I needed to.  AND I loved each and every second of the show.
How did working with Michael Jackson influence you as an artist?
MH:  It was such an awe-inspiring experience to work with Michael.  I am trained in musical theatre, and as a matter of fact I first met Michael backstage at the Pantages Theatre, in Los Angeles. I was in the cast of Lena Horne's huge Broadway hit show and we were now on tour. He came to see the show often. I was thrilled that he was a fan of hers. And as it turned out, a lot of his discipline was similar to how I was accustomed to working in the theatre world. Having a lot of stamina is very important to put on the kind of show he liked to bring to his fans. You have to know how to get through a major production by pacing yourself but not letting the show lose any impact. Knowing exactly what you want to create and being able to articulate that and bring it to life is magical. His work ethic was so high, it made everyone around him want to work harder.  Great leadership ability is important to being a great artist.
What advice would you give to people who want to become professional singers?
MH:  I would say if you want to be a professional singer, you have to really love it! It takes a lot of discipline, courage and hard work to pursue this dream. Highs and lows are not uncommon for anyone in this business. Learning to read sheet music is not important to all singers but I think it is an extremely valuable skill.
---