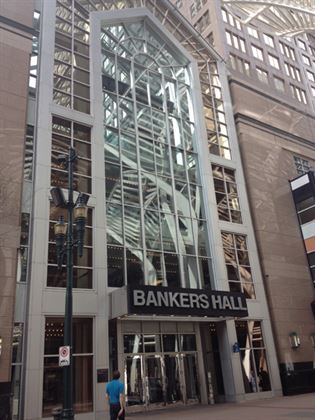 As the name suggests, you might assume that Bankers Hall is just for banking and business. Not so! It is much more than that. Located at 315 - 8 Ave SW, in the heart of downtown Calgary, Bankers Hall houses an eclectic mix of dining options, shops and services.
Shopping:
The boutiques at Bankers Hall are ideal for locating that perfect outfit for a special occasion or an important interview (or just to portray your general awesomeness). For women, Blu's and La Chic have stylish selections and for men, there is the always-fashionable Henry Singer.
Of course, an outfit is not complete without fabulous accessories. The shelves at French Twist are filled with hats, hair accessories and jewellery, to help you complete your look. Vivah Jewellery and the Parfum Gallerie can also assist with the finishing touches.
Food:
If you are hungry, but finding it hard to tear yourself away from the shops, the food court on the 3rd floor has what you crave. Choose from several options, such as Jugo Juice, Subway, Fatburger and Sukiyaki for a quick and delicious fix and to fuel the remainder of your day.
Perhaps you prefer to rest for a bit and want a relaxed dining experience. Head to the Orchid Room and try a dish from their fusion-influenced menu. V Lounge has a varied menu, including chicken tacos, burgers, pizza and pasta. They also have delicious cocktails and flights of vodka (it is probably best to have these at the end of your shopping experience!).
Services:
Among the services, you will find Hedkandi Salon, the Flight Centre and the soon-opening Denim and Smith Barbershops.
And yes, there are banks of course, the CIBC and the Royal Bank. So, if you need to refill your wallet after your shopping and eating adventures, not a problem.
Bankers Hall even has a spa for your car.
Hours:
Monday to Wednesday 10 am – 6 pm
Thursday, Friday 10 am – 8 pm
Saturday 10 am – 5:30 pm
Closed Sundays and most Statutory Holidays.
Parking:
Bankers Hall has underground parking (enter from 9th Avenue SW). Take advantage of the evening and weekend parking rates – only two dollars after 6 pm on weekdays and all day (6 am – 6 pm) on weekends (Bankers Hall is not open on Sundays).
(Editor's note: use our Downtown Calgary Parking Tool to find great parking spots downtown)
In addition to the shops, dining options and services mentioned above, there are many more. For a complete list and their opening hours, visit their website at www.bankershall.ca.
Oh, and once your day of shopping ends, pick up a bottle of wine (or two) from Zyn and a pre-made dinner from Sunterra on your way out. After a "hard" day of shopping, you really shouldn't have to cook.
---