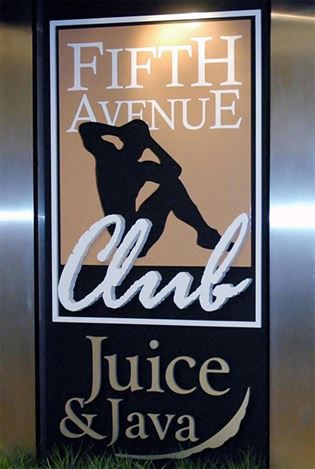 My efforts to find the perfect place (for me) to workout downtown took me to the Fifth Avenue Club recently. This members-only club is on the Western side of downtown, located (not surprisingly) on 5th Ave SW. I was immediately attracted to their claims of having a personalized approach, as well the their commitment to putting money from each membership towards supporting a small village in Ethiopia.
The club itself checks most of my boxes - clean, spacious, and well lit with plenty of natural light. Along with the cardio equipment, weight machines, and other strength training equipment there are two squash courts, as well as a large studio space that is used for group classes, but open for general use when classes are not happening.
Here's my breakdown:
Pros:
SPACE. This gym isn't crowded, and even at peak times (lunch hour) is still usable and clean feeling. There are two levels, and plenty of space for your own workout.
Light. The windows make a huge difference to the feel of the space - lots of natural light but still very private.
A good selection of equipment, including plyometric boxes, balance boards, and resistance bands. I'm a fan of those kind of extras.
Very easy to get to. Parking options are fairly substantial and include the adjoining above ground lot, and the underground lot at the McDougall Centre - just across the street (when in doubt, use the Downtown Calgary parking website!).
Your membership supports not only a local business, but also goes towards the club's project in Belo, Ethiopia. Neat.
The club has a lot of extras - towel services is included in your membership. For an extra monthly fee, you can even have your workout gear washed on a 24 hour turn around, or keep a locker. There is also an attached café - Juice and Java. The café is open to everyone, and members have the added benefit of opening a monthly tab, which is simply applied to your club dues each month. Delicious smoothies!
The people are friendly. Like, actually, genuinely, friendly. It is very obvious even on a first visit that not only do many of the members seem to know each other, but that personnel from the personal trainers to the Juice Bar staff are caring and committed to a personalized approach to customer service.
Cons:
This is a members-only club - don't plan on just dropping in (I learned this the hard way!). Make an apt and you will get a run down of membership options and a tour of the space.
The cost is  a bit higher than some of the other downtown clubs (but not by a lot, and can certainly be argued that the increase is well worth while).
The cardio equipment was a bit on the older side.
My pro list is certainly longer for this club - I am looking forward to further exploring my membership options here!
Fifth Avenue Club has a wall of member pictures - about 100 images of folks who have been using the club for a long time - 20+ years! To me this spoke to the truly personalized nature of the club, and to the positive atmosphere of the space.
Where do you work our and keep active downtown? We'd love to know about your gym, or gym alternative!
Editor's note: this post is part of an ongoing series that our guest blogger Katie Murray is working on in order to find the gym that's PERFECT for her. Read her post on Goodlife Fitness Eau Claire
---