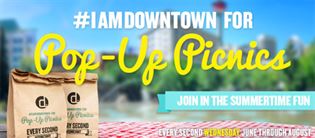 Grab your lunch, the #IAMDOWNTOWN Pop-Up Picnics are back for 2014!
After a great start in 2013, Downtown Calgary is happy to announce that the first Pop-up Picnic of 2014 is happening Wednesday, June 4th at Noon. Picnics will happen every OTHER Wednesday at different locations around Downtown Calgary, so be sure to bookmark our Pop-Up Picnic page, and follow us on Twitter, Facebook and Instagram for updates on the locations.
Last year was a lot of fun. We hosted a number of unique picnics with games, music, and food vendors at Eighth Avenue Place, James Short Park and the Shell Centre Plaza (just to name a few).
This year we're excited to host the first Pop-Up Picnic of the year at Harley Hotchkiss Gardens, located just north of the LRT station on 4th street between 6th and 7th avenue.
Here's a list of the dates for the rest of the summer, we'll update on locations once they are finalized (all picnics run Noon to 1pm).
Comedy Hour - June 18th
Western Mini Golf & Games - July 2nd
Classic Picnic Games - July 16th
Ladies Day Picnic July 30th
Comedy Hour - August 13th
Asian Delights - August 27th
While you're at it, share your experience and Downtown Wishes on social media using the #IAMDOWNTOWN hashtag for a chance to win your wish!
Want to be the first to know the location of the upcoming picnic? Sign up for our newsletter
---