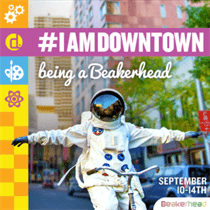 Bridging the worlds of engineering and art, Beakerhead is back to wow us with a serious helping of science-laden good times. The festival's growing list of program presenters has allowed the sophomore year of the festival to make a huge impact across the city. Downtown Calgary is the scene of several major flagship features, as well as many other smaller (mostly free and family friendly!) events, workshops, lectures, and films, including:
The Tremendous and Curious World of Beakerhead
$20-$40 – Buy Online
September 10 7:30 pm
Jack Singer Concert Hall
The opening performance of the festival is an evening of science samplings to whet your appetite for all of the events to come. Your guide for the evening will be  Beakerhead co-founder and renowned Canadian broadcaster Jay Ingram and his band The Free Radicals.
Four-to-Six
FREE
September 10- 12 4:00 - 6:00 pm
Stephen Avenue Mall from MacLeod Trail to 3 Street SW.
A happy hour for your brain. Walk the stretch of Stephen Avenue from City Hall to Bankers Hall, and stumble upon experiments, science buskers and performances, with hands-on opportunities to do things like walk on cornstarch, paint with bacteria, get your butt scanned (for science!), play a piano made of dogs, or race washing machines.
Beakerhead Presents … An Optimistic Evening
$12 – Buy Online
September 11 7:00 - 8:30 pm
Theatre Juntion GRAND (608 1 St SW)
UK author Mark Stevenson (An Optimist's Tour of the Future) is working on his next book We Do Things Differently Here, at the Banff Centre and Leighton Artists' Colony. Beakerhead has stolen him away from the mountains for an evening to share his research, and interviews with the world's radical scientists, engineers and entrepreneurs.
Packing for a One-Way Trip To Mars
FREE
September 10 Noon - 1:30 pm
University of Calgary Downtown Campus (906 8 Ave SW)
Have you heard about the Mars One mission, whose goal is to establish a permanent human settlement on the Red Planet?  Would you be willing to leave Earth FOREVER to be one of the first humans to step foot on Mars? Over 200,000 people worldwide signed up for the challenge, including short-listed Calgarian hopeful Zac Trolley.
Bring your lunch and join Zac, robotics engineer Simon Engler, and Mark Stevenson of Richard Branson's Virgin Earth Challenge for a discussion about the implications of boldly going where no man has truly gone before.
Speakerhead on Stephen Avenue Walk
FREE
September 10-12 Noon - 1:00 pm
300 Block of Stephen Avenue Walk
Each day at noon, drop by the Trees outside of Banker's Hall for a mini-lecture from very smart people, on very random subjects, including "Our Future Robot Overlords" (Sept 10), "Engineer Like a Girl" (Sept 11) and "Implausible" (Sept 12).
Engineered Eats
September 10 - 14 Noon - 11:00 pm
Various Restaurants including Charcut (899 Centre St SW) and Milestones (107 8 Ave SE)
If you are a fan of shows like Top Chef, you will likely have seen molecular gastronomy take shape in the form of jellies, foams, and spheres of flavours (there's always one contestant who insists on making foams).  Participating bars and restaurants will dazzle you with molecular cocktails and engineered bites.
Is a Fitter Musician a Better Musician?
FREE
September 10 4:00 - 5:30 pm
Contemporary Calgary (117 8 Ave SW) – limited to 25 people
Cellists Allegra Courtright and Matt Perera are put under the microscope by Dr. Terry Clark to find out how high the energy demands are on musicians, and ways science can be used to enhance musical training.
Your Body and Its Memory
FREE –Register Online (limited space)
September 10 7:30 - 8:30 pm
John Fleuvog Shoes (207 8 Ave SW)
How can dancers possibly remember all of the moves of a piece of choreography? Join Dr. Terry Clark and the Alberta Ballet Company dancers, and get some hands-on (or feets-on) experience yourself. You will never forget how to do the Macarena again.
Chemistry of Make-Up
$65.00 – Buy Online
September 11 4:00 - 6:00 pm
John Fluevog Shoes (207 8 Ave SW)
Learn what ingredients are in your makeup bag, and make your own lipstick, lip balm and highlighter with chemist Adrienne Lee and Marie Rayma of Humblebee & Me. PLUS you get a mini-makeover.
Science in the Cinema – "Gravity" Screening
FREE
September 11 6:30 - 9:00 pm
Globe Cinema (617 8 Ave SW)
Catch a screening of "Gravity," winner of 7 Academy Awards, and stay for the post-show conversation with Dr. Doug Hamilton, a NASA flight surgeon and current U of C associate professor.
Strange Relations: Charbroiled Fun & Ponies on the Run
FREE
September 11 7:00 - 9:00 pm
Royal Canadian Legion #1 (116 7 Ave SE)
Two lecturers duke it out for interpretive supremacy with machinist and toy creator Phil Butterworth and visual artists and Arabian horse expert Karly Mortimer. It's up to the audience to connect the two lectures together.
The Science of Memorizing Lines
$15.00 – Buy Online (Limited space)
September 12  Noon - 1:00 pm
Lunchbox Theatre (160 9 Ave SE)
You've seen how dancers remember steps, now learn how actors remember lines! Actor Karen Johnson Diamond is used as a willing prop by cognitive scientist Dr. Julie Sedivy.
Momentum Drums Workshop
$25.00 – Buy Online
September 12 1:00 - 4:00 pm
Canon Image Square (545 8th Ave SW)
New York's Momentum Drumming will have you channeling your inner toddler, and re-discovering the joys of drumming with household objects. Once you have made your instrument, Momentum will lead you through a series of drumming exercises, culminating in a public performance at Four-to-Six on Stephen Avenue Walk.
BeakerReel
$8 - $10 at the door
September 12 7:00 - 9:30 pm
Globe Theatre (617 8 Ave SW)
The Calgary Underground Film Festival (CUFF) has produced this film festival, which includes the Alberta premier of Love and Engineering.
Dark Night, Star Light Photography Exhibition
FREE
September 10 - 14 - Various times
Studio C Gallery (#502, 237 8 Ave SE)
Anyone who has taken an overnight trip out of the city into the surrounding countryside has seen the true glory of our night sky. The Rothney Astrophysical Observatory (RAO) Dark Night, Star Light project has challenged photographers to expose the light pollution in Calgary and region to provide education and resources for light pollution. See the photos that explore the ways light pollution is hampering our view of the cosmos.
---