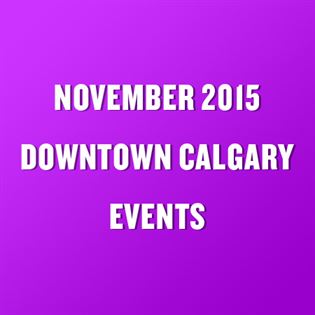 Stuck between Thanksgiving/Halloween in October and Christmas/New Years in December, November is occasionally isn't always thought of as an exciting month.
While we can't forget to take a moment of pause for Remembrance Day, we can also enjoy some fun and interesting events this November!  You can pay your respects on November 11th at the Royal Canadian Legion #1 (just off Centre Street on 7th avenue) and read on for more events happening this month in Downtown Calgary.
Indulge in music and fashion at Calgary's only indoor park for the Fairytales and Legends gala at Devonian Gardens! Read our blog post about it here!
Go behind the scenes and get a taste of Calgary's arts and culture scene at Arts Commons Happenings 2. Last year's event was a grand introduction to the new Arts Commons brand and this year hopes to grow on the tradition. It's free, so you have very little reason not to stop by!
The Calgary International Film Festival presents the first film of the Doc Soup series on November 4th and if you missed any of the fine films at this year's fest you won't want to miss this one!
Speaking of soup… take the dive and chow down with Catch and the Vancouver Aquarium for the Chowder Chowdown! Try mouthwatering, sustainable chowders, paired with craft beer, and cast your vote for your favourite!
With the economic uncertainty taking it's toll on some downtown workers, it's important to focus on mental well-being. Karen Judge from A Happier Mind is hosting a Happiness for Business breakfast seminar on November 25th.
Speaking of happiness… don't forget that Christmas is just around the corner and you'll need to start your shopping soon. The Art Market Art and Craft Sale is an annual tradition in Calgary bringing artisans from all over to the Telus Convention Centre for a weekend of handmade goods and stylish shopping.
From November 13th to 21st Decidedly Jazz Dance is bringing their new show The Gravity Players to Theatre Junction Grand! Enjoy new works by the DJD team as well as choreographers from Toronto including Hanna Kiel.
All this and more is happening in Downtown Calgary this month!!! Be sure to sign up for our Downtown Calgary Events Newsletter to get great events like these emailed to your inbox each and every Monday!
---