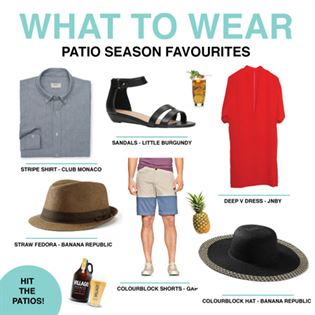 Hello, patio season. You seem to have come out of nowhere - but thanks so much for showing up. The tables have been pulled out and the umbrellas set up. Since we have been donning our glamourous layers for so many months now (at least eight) I can barely remember what kind of clothes are appropriate for this kind of weather.
After doing some research, I remembered, yes there are many fantastic options for sunny days and long warm nights. The rule of thumb is to keep it simple and fun during the summer. Don't overdress otherwise you might accidentally leave your beloved denim jacket behind at the bar. I am loving a lot of colour-blocking right now - choose bold colours like reds, blues and greens to make you stand out amongst the sea of black outfits.
Comfortable shoes are key too - especially when you are climbing up or down to a rooftop patio. There is nothing quite like a twisted ankle after tripping on your own heels going up the stairs. Luckily, there are plenty of great options in sleek strappy styles that still give your foot that sexy edge.
Also, hats do wonders! Skip the bright red hair part this year and pull on a floppy hat or fedora to keep the sun out of your eyes and keep sunburns to a minimum.
The important part? Find your favourite patio and find it fast. Those babies fill up quickly. Luckily, Get Down Blogger Shannon Calhoun has already done the work for you! Check out her Pick Your Patio guide here and saddle up with a nice cold beer or glass of sangria. Cheers!
WHERE TO BUY:
Deep V Dress, JNBY // Shellys London Flats, Little Burgundy // Colour Block Shorts, GAP // Straw Fedora, Banana Republic // Colour Block Sunhat, Banana Republic // Slim Fit Barre Stripe Shirt, Club Monaco //
---