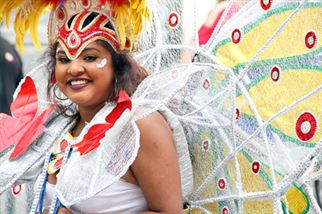 I talk about this a lot, but festival season - and summer in general - really get my street style huntress juices flowing. This year in particular seemed even greater, as I covered more events and parties than usual.
One that I had never been to before was Carifest, and I had a blast checking out the parade on Stephen Avenue, followed by festivities at Shaw Millennium Park. The clothes and costumes were amazing, as were the people, food and entertainment.
The event that always makes me really happy, and a lot sad, is the Theatre Junction Back Alley Party. I love it because it's always an amazing time with a lot of great fashion, although it usually marks the end of summer and festival season.
So it's with much sadness, a bit of joy for Fall (as it is my favourite fashion season) that I conclude summer with some more stylish people that made my summer an amazing and interesting time, yet again. That being said, I welcome Fall and all of the great style I'm sure I'll have the pleasure of capturing.
---