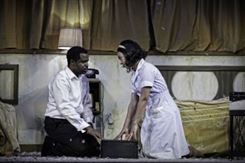 Martin Luther King Jr. is best known for his 'I have a dream' speech. The night before he died, his 'I've been to the Mountaintop' speech contemplated his own mortality. He spoke of the attempts on his life and his uncertainty in the days to come. The next day, King was assassinated while standing on his balcony outside of Lorraine Motel.
Theatre Calgary's Canadian premiere of Katori Hall's The Mountaintop explores the night before King's death. It imagines King, (played impeccably by Kevin Hanchard) in his hotel room, planning his next speech and ordering room service. It tells of Camae (Beryl Bain) one of the motel maids who winds up delivering his coffee and getting to know King.
Hanchard steps up to his role as the great King and doesn't falter in his role. He is strong and puts his heart in his convictions as King, while allowing the audience to see King's flaws. Bain is great as the spunky Camea, with her foul language and smoking habit. Douglas Paraschuk's set design transforms the Maxbell Theatre to a simple 1960s motel room, complete with a rotary phone.
The Mountaintop is a chance to be with the great Martin Luther King Jr. on the last night of his life. It explores what he would be talking about, thinking about and striving for. It brushes up on the thought of, what would he be thinking if he could see our world not? It's a moving, heartfelt piece of theatre that breathes hope and illustrates that we still need to pick up the baton and carry on.
Theatre Calgary's The Mountaintop runs until April 20th. More information is available online.
Photo: Kevin Hanchard and Beryl Bain
Credit: Trudie Lee Photography
---