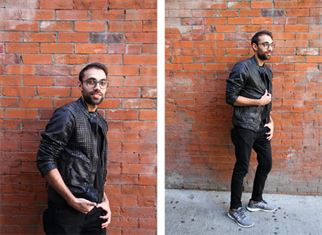 "I traded the stability in life to find the unpolluted me and discovered a person who wanted to create. The world of fashion became my canvas."
- Aleem Arif (Creative Director- Bano eeMee.)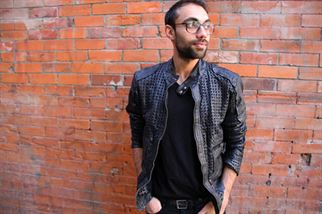 It's not every day that you have the pleasure of meeting someone who lives and breathes what they do for a living, for the simple fact that it's their calling and passion - and it's that passion that is truly inspiring and contagious, and hopefully everyone will eventually get a little taste.
Aleem Arif of Bano eeMee is that person, and what he's done with his relatively young fashion company is truly amazing. After leaving behind a corporate job in finance, Arif decided to follow his fashion dreams. He moved to Calgary and embarked on what would become Bano eeMee.
He's been creating beautiful leather designs since 2011 and he's a force to be reckoned with. His work stands for itself but it's the fashionable man behind the line that is truly note-worthy.
I had the pleasure of asking him a few questions about his work and fashion vision, capture his personal style, and personally get into some of his newest leather jackets - can you guess which one I picked to be my new favourite Bano eeMee piece for my closet? Of course I wanted them all, and will continue dreaming!
See and find out more at http://www.banoeemee.com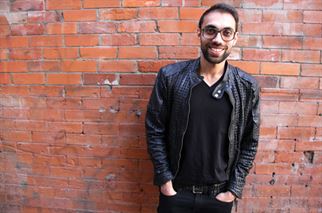 How would you describe your personal style?
Comfortable, sporty with a nice leather jacket to complete the look.
What are some of your influences when it comes to fashion?
Alexander McQueen and his interpretation of fashion. He was a true visionary of our age, in my opinion.
What are some of your favourite stores and shopping destinations in Downtown Calgary?
Studio Intent (carries local designers), Supreme (menswear), John Fluevog (shoes) and the sunlit Core shopping centre.
What are some of your favourite YYC spots (Downtown Core)?
Devonian gardens for quiet reflection and Stephen Avenue for a light hearted good time with friends.
What are some of your favourite trends for Fall 2014?
Textured leather, big scarves and layers - lots of layers!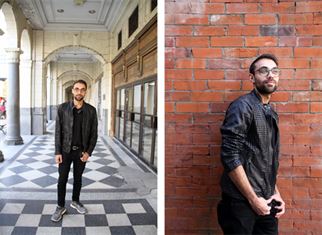 What fashion advice would you give to others?
Take risks, use personal style to express yourself and be confident.
Where were you born and raised?
I was born in the middle-east and raised in Pakistan and the US.
Why do you choose Calgary as your home? Do you plan on staying here, why/why not?
It's new, emerging and thriving with youthful optimism. I love Calgary but I see myself spending more time out east for fashion networking opportunities in the near future.
When was Bano eeMee born and what lead you to decide to pursue fashion design?
I founded Bano eeMee in May of 2011. I have always thought of fashion as the most intimate form of self expression and its the greatest honor as a designer to see people trust you and wear your designs - hence my choice of using fashion as my medium of creative expression was a no brainer.
What have been some of the hardships within this field for you?
Coming from a non-fashion background, learning the jargon and acquiring technical skills was challenging, however, if you are determined and are able to learn from criticism, reaching goals becomes easy. Getting selected as the top emerging North American designer for 2013 by WWDMAGIC was the best affirmation I could have asked for.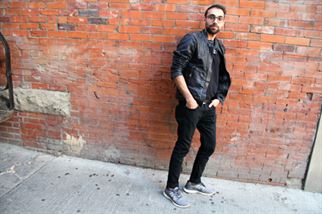 What advice would you give to others?
Be true to yourself, pursue your dreams and be prepared to work hard.
Where can people find your designs?
In Calgary Bano eeMee women's leathers are available at Studio Intent (Fashion Central), ESPY (Inglewood), Crabapple Clothing (Mardaloop) and Kismet (Kensington).
Tell us more about your current collection (Fall/Winter) and what you've designed for next season? What were the inspirations here?
Each Bano eeMee design starts with supple lamb leather. For Fall I introduced unique textures in leather through quilting, laser cutting and appliqueing leather on wool, creating some really unique yet wearable pieces. Bano eeMee's Fall women leathers are lined with an image of Arc de Triomphe that I took in Paris last summer - hence each leather jacket is special.
In Spring 2015 you should expect to see a line of light, wearable and sporty leathers that scream "Bano eeMee : not your average leather jacket."
You're also working on a menswear line. Why did you decide to venture into menswear and what are your hopes for this endeavour?
All my guy friends had been asking me for a while to design men's jackets so 'hey guys Bano eeMee is now designing men's leathers in addition to the women's leathers'. I hope to create well fitting, high quality leathers for men that are unique.
What are some of the processes you use in your designs?
I love taking risks and trying unique techniques to transform leather. For Spring 2015 I have created a process where I immerse my leathers in water with softening agents, tie them with string and put them under weight for 48 hours and then slow dry them to create a perfectly distressed feel.
What are some of your future aspirations?
Representing Canadian fashion globally through Bano eeMee.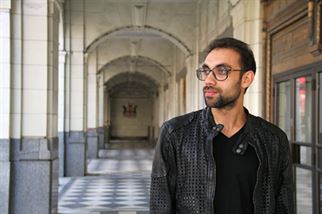 And now, yours truly in some amazing Bano eeMee pieces…once again, why can't I just have them all???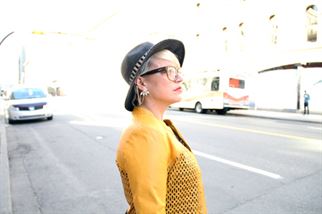 ---