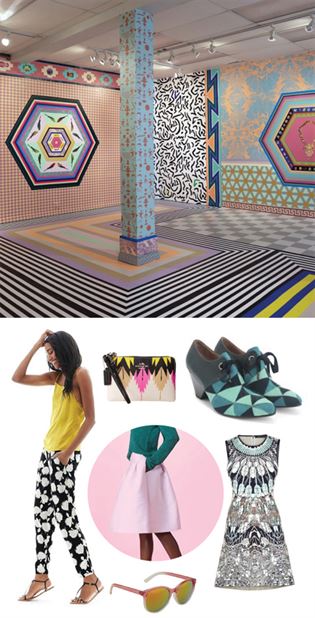 Art lovers need to pop in to Contemporary Calgary immediately to check out the latest exhibition. Contemporary Calgary is pleased to present Three Withdrawal Movements for an ATM by Montreal-based multidisciplinary artist Dominique Pétrin. This site-responsive installation finds the walls and floors of the gallery wallpapered with hand silkscreened works on paper, featuring bold lines & colours and repetitive motifs that create a world that is dizzying and hypnotizing.
Drawing inspiration from Dominique Pétrin's exhibition I searched high and low, all over downtown to find some fabulous items that have all of the style and panache of this exhibition. Whether you choose to don something just as dizzying and psychedelic when you attend the opening reception on June 11th is your own choice, but I say - why not?!
The Details: 
Dominique Pétrin
Three Withdrawal Movements for an ATM
June 11 - July 19, 2022
@ C2 / Suite 104 - 800 Macleod Trail SE
Opening reception on June 11, 2022 at 7PM. Artist in attendance.
What to Wear:
Wilma Batik Fans Dress, BCBG
Scheme Angular Suede Bootie, Fluevog
Patterned Jogger Pant, GAP
COACH Wristlet, The Bay
Hibou Sunglasses, Little Burgundy
Pink Birdcage Skirt, The Bay
About the Artist: Dominique Pétrin is a multidisciplinary artist living and working in Montreal, Canada. In visual arts as well as performance, her interests converge towards producing altered states of consciousness and perception, be it through cognitive or visual illusions, or, for her performances, the use of hypnosis. Since 2014, her work has taken on monumental proportions, including the wrapping of a subway station and several other buildings in Montreal. A former member of the band Les Georges Leningrad, she has also collaborated with such renowned artists as Sophie Calle, Pil & Galia Kollectiv and choreographer Antonija Livingstone. In 2014, she was nominated for the Sobey Art Award longlist. Her work has been exhibited across Canada, in France, USA and the United Kingdom.
Image:  Pimping Up, 2015, silkscreened paper installation, 18′ x 30.5′ x 9.5′, ODD Gallery, Dawson, Yukon. Courtesy of Dominique Pétrin.
---