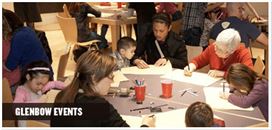 Glenbow Museum Events
The Glenbow is more than just a museum, it's an interactive way to learn about art and history! There are a number of great ways you can enjoy the Glenbow this week including 'Behind the Scenes' tours on Oct. 28th, 29th and 30th, plus the ever-popular 'Weekend at the Museum' events for the entire family on Nov. 1st and 2nd. These great events don't happen every week, so be sure to take advantage of these unique opportunities.
Behind the Scenes Oct 28th
Behind the Scenes Oct 29th
Behind the Scenes Oct 30th
Weekend at the Museum Nov 1
Weekend at the Museum Nov 2

What better way to celebrate Halloween than a rare screening of the 1925 classic film "The Phantom of the Opera"? To experience this silent film with a LIVE accompaniment improvised in real-time on the massive Knox United Church pipe organ!

A Canadian World War II veteran reluctantly returns to Normandy, France for the 60th Anniversary of the D-Day invasion. There, Jake encounters a 10 year old whose inquisitiveness and charm challenge him to confront some long-ignored ghosts. This charming play has been a hit across Canada and beyond, Don't miss it!

ABCs Of Death 2 is the follow-up to the most ambitious anthology film ever conceived, with productions spanning from Nigeria to the UK to Brazil, and everywhere in between. Provocative, shocking, funny and at times confrontational, it is undoubtedly another global celebration of next generation genre film making.  The film is comprised of twenty-six individual chapters, each helmed by a different director assigned a letter of the alphabet. The directors were then given free rein in choosing a word to create a story involving death.

Come down to Wine-OHs for a night of Halloween Shenanigans with a great lineup of local talent and a prize for best costume!
Each band will be performing as Alter Egos for the night:
The Sequicons as The Rolling Stones
Beaver Squadron as The Cramps/The Fuzztones
CCF Devastators as Joan Jett and the Blackhearts
The Pygmies as Alice Cooper
---