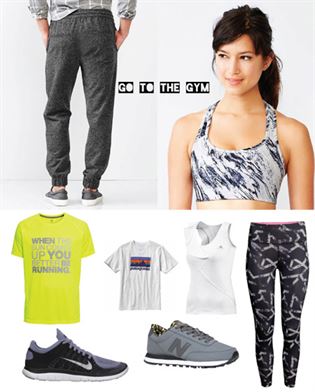 Happy New Year! Welcome to 2015. As with every year, we all start writing down our goals and resolutions for the upcoming year. We've tossed out the leftover chocolates and cakes and pies and instead we've signed up for juice cleanses and detox programs. And then of course, there is the inevitable gym membership that we will renew right away. You know you want to gym it up but perhaps not sure where? There is some amazing gyms located right in the heart of our downtown that might take your fancy.
Where To Work It Out:
GoodLife Fitness at the old Bank of Montreal: The newest gym to hit downtown Calgary, the luxe atmosphere (gold leaf ceilings and regal pillars) of the former BMO will get you in the mood for looking just as good this year. Bonus points for the great people watching location on Stephen Avenue.
Eau Claire YMCA: A favourite among many, the Eau Claire YMCA is a great spot to step up your fitness regime a notch. Enjoy family activities, executive membership options and afterwards, a scenic walk through Princes Island Park.
World Health Club at The Bay: This gym was recently renovated in 2013, making it a bright and inspiring space to get back into the workout groove. Experience some of their executive amenities including towel and laundry services, massage and holistic nutrition programs.
Bankers Hall Club: For the busy professional on the go, the Bankers Hall Club is a fantastic, no-nonsense gym to sign up at. With amenities such as massage, squash courts, nutrition services and personal training, you'll quickly slip into a great routine of health and wellness.
There is a reason why gym clothes and running shoes have gotten so cool over the past five years. The reason? You automatically feel better about yourself when you look good. While you are achieving your fitness goal, you might as well treat yourself and look your best. I've found some great options for showing up in style at the gym, so go forth and be fit.
For Him:
For Her: 
---