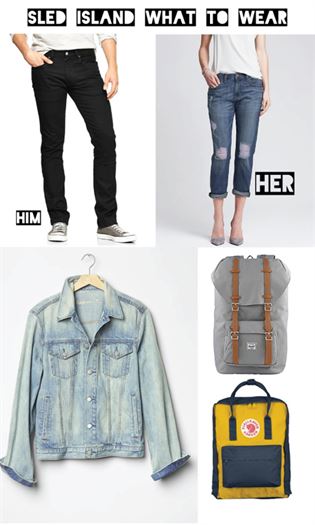 Sled Island has officially kicked off but don't despair - you have plenty of time to pick up tickets, passes, merch, go to shows, see some films, ride your bike on the cycle track, view some art, meet up with friends, eat some really good food and just rock out to some really great music.
One thing you definitely don't want to be worry about is what you are going to wear. I like to approach Sled Island with a uniform-outfit in mind. That way I can just pull on essentially the same (effortlessly cool, of course) outfit every single day of the festival and feel good about it.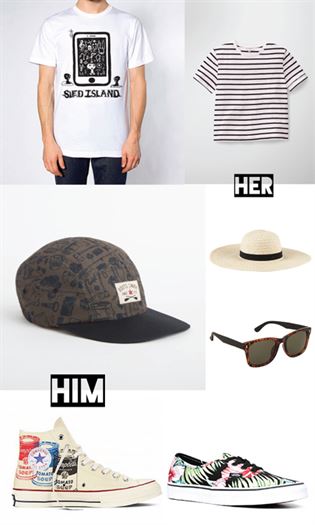 | FOR HER | If you plan on doing any sort of dancing, moshing or physical activity, I highly recommend skipping the heels and dresses during Sled. While you want to look stylish, comfort is also key. You cannot go wrong with a trusty pair of Vans. The great thing about these shoes is that they clean up nicely; depending on the venues you head to, there is a good chance they could end up pretty grimy by the end of the weekend. A great pair of jeans and a classic tee in your favourite stripe, band name or Sled Island logo is the perfect combo. Bring a backpack for any merch you plan to pick up and overnight gear if you plan on hitting a hotel or staying with a friend. A hat is key for the daytime shows at Olympic Plaza.
Tropical Vans, Little Burgundy
Apel T-shirt, Aritzia
Distressed Boyfriend Jean, Banana Republic
Hiltrude Hat, Call It Spring
Fjallraven Kanken Backpack (colours may vary), Purr Clothing
| FOR HIM |  Denim is your friend. If you haven't already, invest in a classic denim jacket. Trust me, you'll keep it for the rest of your days. Black jeans make life easy for the festival goer. Plan on living in these all weekend. Again, a backpack is a must-have to tote around your gear during the festival - especially if you are cycling. Sunglasses and hats are great for daytime shows. Lastly, these Warhol Converse kicks are just a lot of fun - who doesn't want soup cans on their sneakers?!
Herschel Backpack, Little Burgundy
Heritage Denim Jacket, GAP
Camper 5 Panel Hat, Roots
Sunglasses, ALDO
Sled Island Tee, Sled Island
Warhol Converse, The Bay
Black Wash Jeans, GAP
---