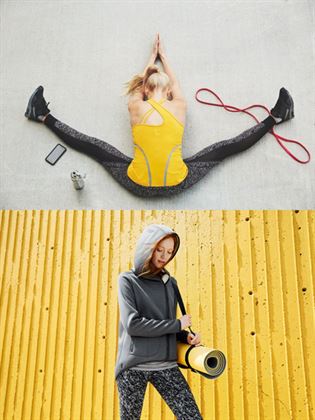 The fitness set should take note of a new activewear purveyor that just opened in the Core Shopping Centre - Lolë! You may have previously seen this new-to-Calgary brand available at The Bay but they have finally opened up their own stand-alone shop right here in downtown. Lolë  is an internationally recognized Canadian brand from Montreal that is known for their gorgeous activewear that is designed with the modern woman in mind.
Lolë, which stands for Live out Loud Every Day, is reflective of the active urban woman's modern lifestyle and offers bold, feminine pieces that allow for easy transitions from the studio to the street.
Many of their items can be taken from the gym and worn to a coffee date or vice versa. It is activewear that is elevated to streetwear, making each piece do double-duty in your closet. Popping into the new location at The Core, it quickly became clear how easy it is to pick out pieces for your own fitness wardrobe. With several different colour stories available each season, you can choose colours that fit your personality in all of their most popular styles. They have activewear for many different activities including yoga, pilates, running, tennis, golf as well as lifestyle wear for swimming, travel and general fitness.
The Lolë girls shared that the Burst Leggings (pictured here) are definitely one of their best sellers since they opened up earlier this month. They are a staple in the Lolë collection, meaning you'll be able to pick them up time after time, in each season's new colours. That is great news for those of us who get hooked on one specific style!
Currently there are 46 stores in Canada, the U.S. and Europe, as well as more than 1,600 points of sale internationally. This Canadian brand is a great addition to the CORE's current offering of womenswear - with a bit of panache to boot! Looking for places to work out right here in downtown? I rounded up some of the best spots to check out in a blog post earlier this year, for your reading pleasure.
---