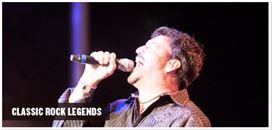 CPO Classic Rock Legends
A night of classic rock like never before! Join legendary Kansas frontman John Elefante as he belts out some of the greatest rock songs of all time, including Led Zeppelin's Kashmir, Aerosmith's Dream On and Heart's Barracuda.
Two shows! January 16th, and January 17th at the Jack Singer Concert Hall in Arts Commons (formerly the EPCOR Centre for the Performing Arts)

This special concert will feature the beguiling Kenna Burima, a legendary Calgary keyboardist and vocal powerhouse famed for her plaintive piano score and knack for writing songs that straddle the line between darkness and beauty.
This wonderful concert is the first of three consecutive co-presentations with the 2015 High Performance Rodeo, Calgary's International Festival of the Arts.

Form(al) Economics
Grier Edmundson's exhibition at The New Gallery comprises property cards from the board game Monopoly, the figure of Thomas Malthus (an 18th Century British philosopher and economist who re-envisioned the notion of rent for our modern infrastructure), and a now-disputed series of Warholian Brillo Boxes that were commissioned and then sold as originals by Swedish curator Pontus Hulten.
These elements, in conjunction with an intimate series of personal objects, are combined to create a playful ensemble of works that challenge contemporary thinking about "value" in the abstract sense as well as its purportedly concrete historical constructions.

Beneath Springhill
Beneath Springhill is the incredible story of Maurice Ruddick, "the singing miner", an African-Canadian who survived nine days underground during the historic Springhill mine disaster of 1958. He was awarded "Citizen of the Year" for saving the lives of his fellow workers by keeping their spirits up through his music. The play is celebration of the hope, courage and community.

The Big Taste 2015
For 10 days this March, Calgary's finest foodies will descend on downtown to celebrate world-class cuisine. Join this astounding display of dining by offering your finest culinary delights for the hungry masses.
Restaurants: Sign up to participate, menus are due by January 21st
Foodies: Sign up for our Big Taste newsletter to be the first to know when culinary event tickets go on sale, and more.
---