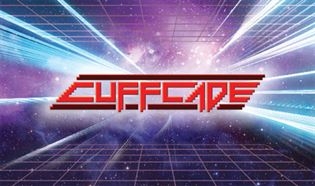 The Calgary Underground Film Festival is back for 2015 and it is taking over the Globe Cinema for seven days of pure, unadulterated movie madness. Each year the Film Festival surprises, shocks, scares and even woos audiences - and this year is not an exception.
This year's festival kicks off on Monday April 13th. While the opening night film's advance tickets are sold out there will be rush tickets available to see Ex Machina, so get there early. If you aren't worried about seeing that film and you just want to enjoy the energy of CUFF, you'll have to stop into see the CUFFcade, a one of a kind custom arcade. CUFF has designed and customized five cabinets that each have a local or Canadian video game on it for your gaming pleasure. With names like 'KRUNCH' and 'Don't Be Patchman' you know you'll be hooked.
If you love a good dramatic comedy, you'll want to check out 'Guidance' on April 15th. At 36, David Gore is diagnosed with skin cancer and is fired from the last acting gig he could get. Desperate for money the immature former child actor fakes his resume and gets a job as a high school guidance counsellor. The students of Grusin High love him (maybe because he drinks and smokes with them?), but it's just the beginning of the unabashed alcoholic's downward spiral. The debut film by Canadian Pat Mills (Nickelodeon's You Can't Do That On Television) takes on some tough issues, while remaining genuinely funny.
A film described as Office Space meets Shaun of the Dead cannot be left off of any self-respecting film buff's must-have list. 'Bloodsucking Bastards' is an action-packed vampire comedy, BLOODSUCKING BASTARDS stars Fran Kranz (CABIN IN THE WOODS) as Evan Sanders, a dutiful and overworked employee stuck at a soul-killing corporation with his beautiful co-worker and girlfriend Amanda (Emma Fitzpatrick of THE COLLECTION) and his slacker best friend Tim (Joey Kern of SUPER TROOPERS). Evan's world begins to crumble when Amanda dumps him and his boss Ted (Joel Murray of MAD MEN) hands his coveted promotion to his nemesis Max (Pedro Pascal of GAME OF THRONES). When his officemates start going through disturbing changes and bodies begin to pile up, Evan must find a way to stop the evil brewing amidst the cubicles and water coolers, win back Amanda, and rescue his workplace pals before his life and career go from dead-end… to just dead.
One thing you definitely don't want to miss out on is the Saturday Morning All- You-Can-Eat-Cereal Cartoon Party. You'll want to buy your tickets for this in advance because it sells out every year. They always bring in tons of awesome cereal - this year they are estimating that they will have over 2,000 servings of that sweet crunchy stuff served up with milk! In fact, it is so popular that they run the cartoons in both theatres at the Globe Cinema.
The schedule is chockfull of amazing, weird and wonderful films so head on over to the CUFF website and start strategizing for your movie marathon. Also - run, don't walk and get your CUFF tickets and passes now!
---