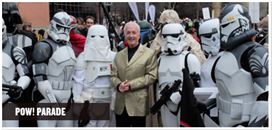 April 17th, 2015 - On Friday, April 17th, take a break from the less than fantastic world of the office and step on to Stephen Avenue for a look in to a world of wonder! The POW! Parade of Wonders will be making it's way down 3rd street from Eau Claire plaza at 10:45am, and making it's way on to Stephen Avenue towards Olympic Plaza.
The parade will feature hundreds of cosplayers from across Western Canada strutting their stuff before the Calgary Comic & Entertainment Expo kicks off later that day. The parade will also feature some to-be-announced celebrity special guests. New this year, we'll have a live MC on the 300 block of Stephen Avenue (under the trees between The CORE and Banker's Hall) so you can get a play-by-play of all the action going down the walk. The MC will also be handing prizes and other goodies just in case you needed some more incentive.
Note: the photo of Anthony Daniels used for this newsletter was from 2014 and does not represent forthcoming guests. There will however be some very interesting guests this year.

April 13 - 19, 2015 - The Calgary Underground Film Festival (CUFF) is committed to showcasing ground breaking, provocative independent film with an emphasis on emerging genres. We strive to show works that defy convention in form, style and content, screening a wide spectrum of contemporary works in a variety of categories including narrative, documentary, animation and shorts.
April 13 - May 9 - The Witness Blanket is a national monument that recognizes the atrocities of the Indian Residential School era. Inspired by a woven blanket, the large scale art installation is made out of over 800 hundred items connected to residential school experiences in Alberta and across Canada. Each item tells a story reflecting the painful legacy of that time.

A Worthy Opponent
Until Apr 25th, 2015 - New from Lunchbox Theatre: Ivy is in love and has just gotten engaged to the man of her dreams. The only hinderance to her happiness? Nathan's mother. Penelope does not approve of Ivy and she is a formidable foe. Will Ivy be able to live "happily ever after"? Or will Penelope manage to drive a wedge between them? An entertaining nod to mothers-in-law!
April 18 - 25, 2015 - No tickets are necessary - just an appetite for visiting different restaurants in search of your favourite poutine on your own schedule. During Poutine Week you can enjoy as many of the featured poutines as you can handle.
For every featured poutine sold during Poutine Week a person in need receives a meal thanks to our non profit partner Mealshare. In 2014 over 2000 meals were given to people in need in the Calgary community from Poutine Week and Poutine Crawl.
Use #PoutineWeekYYC to follow the curds and use it in all your social posts!
---